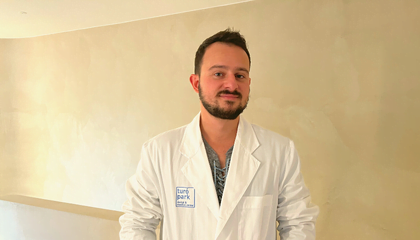 Dr. Damián A. Barbatelli
Medicina General
English - Spanish - French
Travel medicine and travel assistance
Emergency and chronic patients
Internal Medicine Specialist
Book an appointment
Discover more about me
Dr. Damian Barbatelli is a general practitioner at Turó Park Clinics. He has competencies for medical emergencies as well as evaluation of febrile patients, triage, admission and semicritical care in adults.
Education
Graduated in Medicine at the University of Buenos Aires, he later completed a Master in Integration of Medical Knowledge for the MIR at the CTO University. He also did external rotations at the University of Oslo in different departments, Gynecology and Obstetrics, and Pediatrics.
He has participated in different courses such as Advanced Life Support Course, Airway Management and Assessment, as well as Cardiopulmonary Resuscitation Course.
Universities and medical societies
Dr. Damian Barbatelli is an active member of the Col-legio de médicos de Barcelona.
Book an appointment with Dr. Damián A. Barbatelli
Dr. Barbatelli's packages