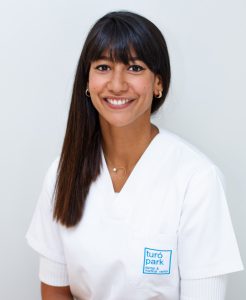 Are you looking for an English doctor in Barcelona? Dr. Asma Kemerchou is a general practitioner at Turó Park Dental & Medical Center in the heart of Barcelona. 
She holds a degree in General Medicine from the University of Paris XI and maintains a special interest in all aspects of gynecology, obstetrics, family medicine, including preventive medicine. She presents a holistic approach, offering tailor-made care and treatment in English to help the patient improve their health.
She has worked at the Orsay Hospital in the Internal Medicine, Cardiology and Gastroenterology departments, at the Antony Private Hospital in the Emergency department, at the Lariboisière University Hospital in the Diabetology-Endocrinology department and at the Beaujon Hospital in the Gynecology-Obstetrics department in Paris. Her vast experience and great dedication make her an excellent doctor who, in addition, is polyglotic and speaks French, Spanish and English.
Dr. Kemerchou offers consultations at the clinic 7 days a week and by video consultation from your phone wherever you are.