Pediatrician
Helping Your Child Breathe Easier
English - French - Spanish - Catalan
Book an appointment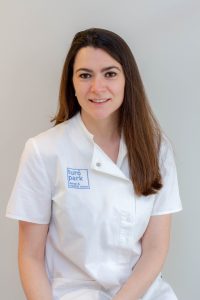 Are you looking for an English-speaking pediatrician in Barcelona? Dr. Laura Garriga provides first-class pediatric care for children of all ages at Turó Park Dental & Medical Center, in the heart of Barcelona. She also performs spirometries, allergy tests and stress tests.
She holds a degree in General Medicine from the University of Barcelona and a Master's degree in Pediatric Pulmonology and Cystic fibrosis from the Autonomous University of Barcelona. 
She has worked at Vall d'Hebron University Hospital in the Cystic fibrosis unit and in Clínica Diagonal, where she was in charge of the Pediatric Pulmonology and General Pediatrics consultations.
Dr. Garriga offers consultations at the clinic on Wednesdays and by video consultation from your phone wherever you are.