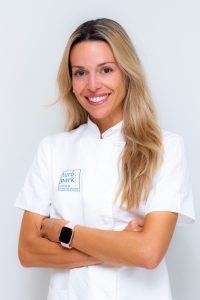 Dr. Laura Sitges is a dentist graduated from the European University of Madrid.
She holds a Postgraduate degree in Periodontics and Mucogingival Surgery and a second Postgraduate degree in Prosthesis from the Catalan Society of Dentistry and Stomatology.
Se specializes in perio-gingival surgery, guided bone regeneration, periodontal surgery, oral surgery and implantology.
She also graduated from the Master in Dental Alveolar Surgery at UCAM and the Master in Periodontology and Implants at the University of Barcelona.
She works as a periodontist and mucogingival and implant surgeon, as well as a general dentist in Barcelona. She is a member of the Spanish Society of Periodontology and Osseointegration, the Catalan Society of Dentistry and Stomatology of Catalonia and the European Association for Osseointegration.
Dr. Laura Sitges speaks Spanish, Catalan, and English and offers appointments 7 days a week at the Turó Park Dental & Medical Center clinic and by video consultation from your cell phone.