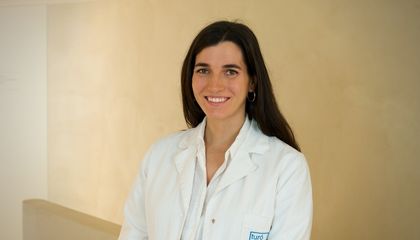 Dr. Maria Carrera
Specialist in Aesthetic, Regenerative and Anti-Aging Medicine
English - Spanish - Catalan - Gallego
Aesthetic, Regenerative and / or Anti-Aging Medicine
IPL (Intense Pulsed Light) and Laser Treatments
Book an Appointment
Discover more about me
Dr. Maria Carrera is a Family Doctor specialized in Aesthetic, Regenerative and Anti-Aging Medicine at Turó Park Clinics. As a Family Physician she is competent in the integral care of people's health, both in adults and children.
As a specialist in Aesthetic Medicine she handles the diagnosis and treatment of hyperpigmentation or spots, wrinkles, scars, couperosis or even varicose veins (superficial varicose veins), as well as fractional rejuvenation using IPL and laser. She also performs wrinkle treatments as well as bruxism and hyperhidrosis with botulinum toxin, facial fillers and rhinomodeling with hyaluronic acid, along with chemical peels. In her practice, she informs and recommends the most appropriate cosmetic routine for each personal case.
Education
Graduated in Medicine at the University of Santiago de Compostela, she was a Resident Intern in Family and Community Medicine at the Barcelona Ciutat ICS Teaching Unit, Sagrat Cor University Hospital and CAP La Marina, Barcelona. She also completed an international rotation at the National University of Cordoba (Argentina).
She has a Master's degree in Aesthetic, Regenerative and Anti-Aging Medicine at the Complutense University of Madrid, a Master's degree in Internal Medicine at the University Camilo José Cela and an official Master's degree in Clinical Research at the University of Barcelona.
In these fields she has authored and co-authored publications, posters and research projects, in addition to having participated in various presentations, oral communications, congresses and seminars throughout her career.
Universities and Medical societes
La Dra. María Carrera is an active member of the most relevant societies in his field: Colegio Oficial de Médicos de Barcelona (COMB), Sociedad Española de Medicina de Familia y Comunitaria, Acadèmia de Ciències Mèdiques de Catalunya i Balears, SEMERGEN (Sociedad Española de Médicos de atención primaria), SEIMC (Sociedad Española de Enfermedades Infecciosas y Microbiología Clínica), SCCM (Society of Critical Care Medicine) and SEME (Sociedad Española de Medicina Estética).
Concertar una cita con la Dra. Maria Carrera