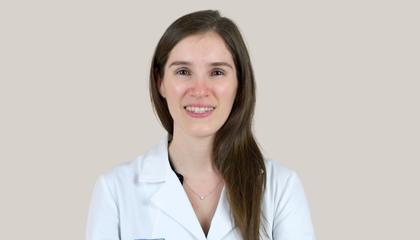 Dr. María Jesús Rojas
ENT specialist
English - Spanish - Catalan - French
Diagnosis and treatment of olfactory dysfunctions
Book a Doctor's Appointment
Discover more about me
Dr. Rojas is ENT specialist. She speaks English, Spanish, French and Catalan.
Dr. Rojas will welcome you at Turó Park Clinics to take care of the health of your nose, ears and throat as well as the structures related to the head and neck, treating both adults and children.
Education
Dr. María Jesús Rojas graduated in Medicine at the Pontificia Universidad Católica de Chile and later completed her residency in Otorhinolaryngology and Head and Neck Surgery at the Hospital Clínic in Barcelona.
In these fields she has participated in several studies of olfactory dysfunction, including patients with COVID-19, post-viral, chronic rhinosinusitis and neurodegenerative diseases.
Dr. María Jesús Rojas is also author and co-author of several scientific articles in national and international medical journals and has participated as a speaker in numerous congresses and meetings.
Medical associations
In addition, she is an active member of the most relevant societies in her field: the Spanish Society of Otolaryngology and Head and Neck Surgery (SEORL-CCC), Catalan Society of Otolaryngology (SCORL), European Rhinologic Society (ERS) and European Academy of Allergy and Clinical Immunology (EACCI).
Schedule an appointment with Dr. Maria Jesus Rojas