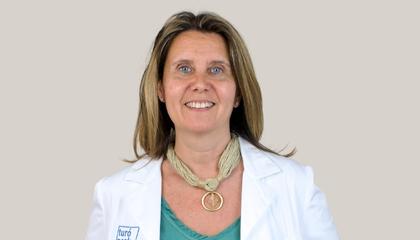 Neus Valencia
Integrative Relational Therapist
English - Spanish - Catalan
Integrative Relational Psychotherapy
Personal growth and leadership
Accompaniment during processes of loss and grief
Neurolinguistic Programming
Book your appointment
 Discover more about me
Our integrative relational therapist provides you with support to find your own tools for personal growth and transformation in times of loss, pain and conflicts in relationships.
At Turó Park Clinics, Neus Valencia works in our mental health team to provide our patients with full support in their individual lives, with all of the unique challenges, losses and successes that they may face.
Accompany you in your losses, in your grief, in your relational conflicts
Listen to you in individual sessions, workshops and group talks
Help you to find your own tools
Support you in your transformation process
Neus Valencia speaks English, Spanish and Catalan.
Education
Qualified and experienced, Neus has a master degree in Personal Growth and Leadership from the University of Barcelona, along with a postgrad and master degree in Integrative Relational Psychotherapy applied to bereavement, loss and trauma counseling and intervention. She is a Master Practitioner of Neurolinguistic Programming, endorsed by the AEPNL (Asociación Española de Programación Neurolingüistica). She has also completed the 1st level of Sensorimotor Psychotherapy Training for Treatment of Trauma from US SPI (Sensorimotor Psychotherapy Institute)
Alongside her degrees, Neus has completed further, and more specific, training in a range of subjects in order to provide fully comprehensive and supportive therapy. For instance, she has training in the following, amongst others:
Accompaniment in Processes of Loss and End of Life at the Fundació Àmbit,
Course in Ericksonian Hypnosis,
Attachment Styles and Transgenerational Trauma Course
Training in Family Constellations
Previous to entering this field of work, she worked as a Financial Analyst on Wall Street, having graduated in Business Administration and Management at the University of Barcelona and at Juniata College (Pennsylvania, USA) thanks to a scholarship programme. After an intense professional experience across 20 years, working and traveling with Spanish, American and European multinational companies her inner emptiness became very present. In search of the answer, she found the Master's in Personal Growth and Leadership at the UB.
Her approach is holistic and full, treating the human experience as a whole, integrated by mental, emotional and somatic structure. Working with her patients to form a team that creates and uses personal tools to work towards assessment, diagnosis and objective.
"I create a bond with my patients from which I can understand them and accompany them through the most uncomfortable life experiences in their lives. It is a non-judgmental and compassionate space."
Discover the opinions about our therapist, and leave your own.
Schedule an appointment with Neus Valencia