Do you need to do a blood test in Barcelona?
Our medical analysis laboratory welcomes you by appointment for all your blood sampling and testing needs.
Some specialized biological analyses are performed by our partner laboratories in Barcelona, made by referral from our team when required.
Contact us now to make an appointment.
What is a blood test?
A blood test is a simple blood sample usually taken from a vein in the arm or hand, using a small needle. It is prescribed by a doctor, usually to diagnose or confirm a disease.
The blood test is not very painful, but some patients feel a small sting or burn when the needle is inserted into the vein in the forearm. Others feel a slight vagal discomfort when the needle is withdrawn.
In children, it is possible to use anesthetic patches (to be placed 1 hour before) to make the area insensitive to the puncture needle.
The different types of blood tests
Several types of blood tests can be performed depending on the doctor's prescription:
Blood count or hemogram (blood cell analysis)
Determination of ferritin
Inflammatory assessment
Blood sugar analysis
Lipid analysis
Hormonal assessment
Renal check-up
Hepatic assessment
Why should I have a blood test?
A blood test is the most common test prescribed by doctors because it allows them to refine the diagnosis of certain diseases and their treatments, as well as assess the results of current treatments and medicines.
Even if there is no suspicion of a particular pathology, a blood test can also be prescribed to check that everything is fine regarding your overall health. In this case, a check-up every three years is sufficient in order to control blood sugar and cholesterol levels, in particular. If you are overweight, have high blood pressure or have a family history of type 2 diabetes, an annual check-up is recommended.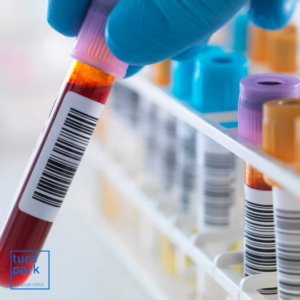 How does a blood testing work?
Some samples must be taken on an empty stomach. A 12-hour fast is mandatory for the lipid and glycemic tests.
If you have to come to the laboratory on an empty stomach, here are the instructions to follow
Do not eat any food or drink (except water) in the 12 hours preceding the blood test.
Avoid smoking and strenuous physical activity just before the appointment.
Once at the laboratory, you will be asked to make yourself comfortable in a chair so that the nurse can prepare you for the blood test. Depending on the nature of the blood test to be performed, the blood sample should preferably be taken from an artery, a capillary or a vein.
The nurse will apply a tourniquet to temporarily stop the blood flow to facilitate the sampling. Once the necessary number of tubes have been filled, the tourniquet and the needle are removed.
In order to avoid the formation of a hematoma, a bandage will then be put in place, which you will have to press for a few minutes.
After the test, the samples are analyzed in the laboratory.
How to read the results from medical analysis?
Generally, the results of the blood test are sent to the prescribing physician. However, you can retrieve them yourself if you wish to bring them to future medical appointments.
A blood test always contains reference values. These reference values are standards of results that vary according to the assay techniques used and the age and sex of the patient.
If your results fall within these standards, you have nothing to worry about. Everything is normal.
If some of your results are above or below the reference values, contact the doctor who prescribed the test to find out more. You could be suffering from deficiencies or a possible pathology.