Get yourself the smile you've always dreamed of with lingual braces!
Beyond aesthetic considerations, starting an orthodontic treatment can be an excellent idea to regain optimal occlusion and thus improve chewing and speech comfort, or even treat problems of tension in the jaws. Having well-aligned teeth is also very important to facilitate dental hygiene and avoid the appearance of tartar or gum problems.
And although orthodontics is often associated with teenagers and metal braces, the discipline has made great strides in recent years, now offering invisible techniques such as Invisalign aligners or lingual orthodontics.
At Turó Park Clinics, our orthodontist Dr. Madeleine Smit specializes in invisible orthodontics and works in particular with WIN lingual braces, the most widely used lingual orthodontic system in the world.
If you are considering starting treatment but are not yet aware of all the possibilities available to you, please do not hesitate to book an appointment for a free first visit to get an initial diagnosis and treatment options.
Fast track your treatment
To book an appointment or speak with one of our friendly team, please get in touch using the options below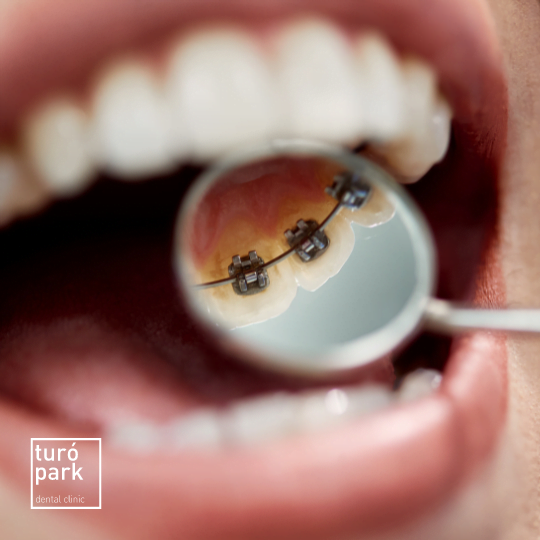 What is Lingual Orthodontics?
Lingual orthodontics is an invisible orthodontic technique that is increasingly popular with adult patients, and which seduces by its effectiveness and discretion.
Unlike conventional braces, lingual braces are placed on the inside of the teeth, on the side of the tongue. It is therefore completely invisible from the outside and offers exceptional precision.
Who are lingual braces for?
Lingual braces are particularly appreciated by adults but can be used for all patients requiring orthodontic correction. Working in the same way as conventional braces, they can correct a large number of occlusion problems, including :
The crossbite: when a tooth has a position closer to the cheek or tongue in relation to its antagonist's tooth on the other arch.
Prognathia: when the lower teeth are more advanced than the upper teeth.
Overbite: when the upper teeth cover the lower teeth.
Teeth overlap
Gaps in-between the teeth
The advantages of the technique
Lingual orthodontics offers an effectiveness equivalent to that of conventional (visible) braces while being perfectly invisible. It is therefore ideal for people who wish to align their teeth but do not necessarily assume to wear conventional braces, especially for professional reasons.
Disadvantages of lingual braces
The major disadvantage of lingual braces is that they tend to injure the tongue a little during the first few days after installation. Dental hygiene can also be a little more complex than with conventional braces or Invisalign aligners.
Align your teeth discreetly!
Our English-speaking orthodontist, Dr. Madeleine Smit, specializes in lingual orthodontics and is WIN LingualSystems certified.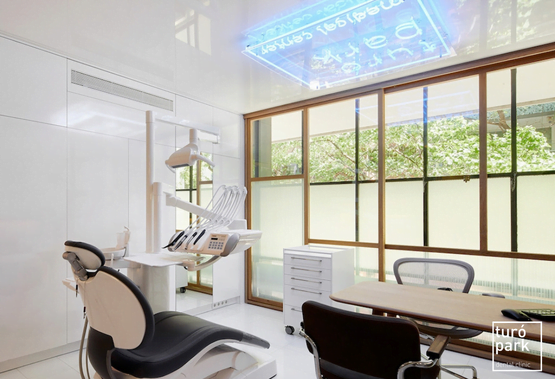 Before and after our lingual braces
Speed up your treatment!
To make an appointment or speak with one of our team members, please contact us using the following options.
Lingual braces or Invisalign?
Lingual braces are often compared to the Invisalign method because they both correspond to invisible orthodontic techniques. However, where Invisalign only treats certain dental problems, lingual orthodontics can correct even the most severe malpositions.
Another advantage of lingual braces is that they can be partial when only certain teeth require correction, while the Invisalign tray is always complete.
The course of treatment with Dr. Madeleine Smit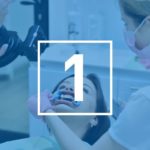 Step 1: oral examination and pictures
After an oral examination, the orthodontist will take pictures of your teeth and send them to the WIN LingualSystems laboratory. There, a model of your teeth will be set up to achieve optimal dental correction. Your braces will then be custom-made according to your current dental situation and the necessary corrections.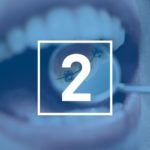 Step 2 : placement of lingual braces
About 4 weeks later, you will be able to have your braces placed on the inside of your teeth. Between 45 minutes and 1 hour per dental arch are necessary to complete this step.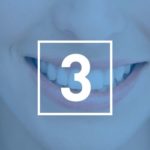 Etape 3 : active treatment
Once your braces are in your mouth, you will need to schedule check-ups approximately every 4 weeks.
The duration of the lingual treatment is obviously variable but it generally takes between 9 and 24 months for an optimal result.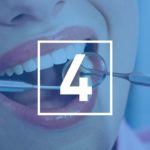 Step 4 : retention
Once your treatment is complete, a retainer wire will be placed on the inside of your teeth to prevent recurrences.
Our English-speaking orthodontists
Dental societies and organisations
Have a look to the financing options
Don't worry, we take care of everything!