The flu vaccine is the best form of protection against the flu and its complications.
At Turó Park Clinics, we administer the flu vaccine in an international and welcoming environment in the heart of Barcelona.
We encourage our patients to get the flu vaccine, as it is a safe and effective vaccine. It is recommended every year to help protect those at risk of becoming seriously ill with flu. The best time to get the flu vaccine is in the autumn or early winter, before the flu starts to spread.
If you want to get a flu shot, don't wait to make an appointment with one of our English-speaking doctors.
Fast track your treatment
To book an appointment or speak with one of our friendly team, please get in touch using the options below.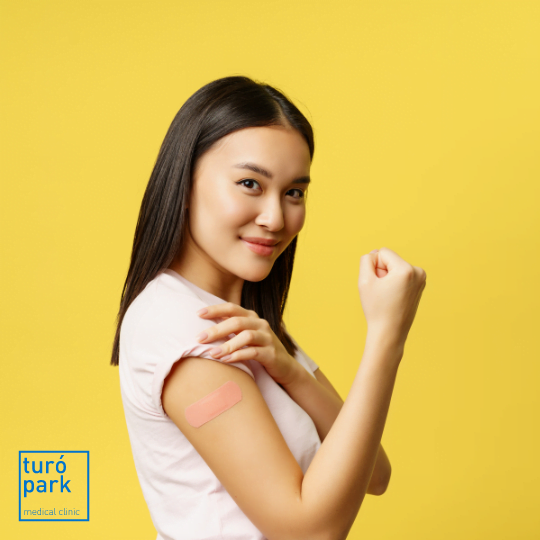 Why should I get the flu vaccine?
To protect yourself and others. Even if you are not considered vulnerable, you decrease your risk of transmission by having the vaccine, therefore protecting those around you.
Symptoms can be severe, and include:
fever
sore throat
runny nose
dry cough
headache
muscle pain
tiredness
The coronavirus and influenza virus are very similar: both share transmission routes and cause respiratory illness, with a wide range of symptoms, which can range from non-existent or mild to severe and fatal.
The vaccine is said to prevent 26% of hospitalisations, 40% of ICU admissions and 37% of deaths in the over-65s.
What are the National Health System's recommendations?
The Ministry of Health often launches campaigns calling on the most vulnerable people, their contacts and health and social care professionals to get the flu vaccine each year.
It states that the vaccine is aimed primarily at protecting people who are vulnerable, therefore at higher risk of complications with infection. Additionally, those who can transmit the disease to these groups, within this being health and social-health personnel and certain groups considered essential.
The ministry also highlights that the coexistence of the two viruses this year makes flu vaccination more important than ever, especially for at-risk groups.
Which populations are most interested in the vaccine?
The influenza vaccine is particularly indicated for :
People over 65 years of age.
People aged 6 months to 65 years at high risk of complications from an underlying condition or disease.
Groups that can transmit influenza to those mentioned above.
Health and social care workers and certain groups considered essential.
Your health is our priority.
Our English-speaking general practitioners welcome you for the diagnosis and treatment of all your health problems.