Do you suffer from Civatte's poikiloderma and want to even out your skin with IPL and laser?
Also known as erythrosis coli, Civatte's poikiloderma is a chronic condition that causes skin discoloration on the face and neck. Although it is not a health hazard, it is often very complicated, especially as it tends to progress over time.
Fortunately, it is now possible to reduce the manifestations of Civatte's poikiloderma using IPL and the Nd:YAG laser. Turó Park Clinics is equipped with the latest generation of equipment, the Nordlys™ laser, to treat 21 different indications including Civatte poikiloderma.
If you want to reduce the symptoms of poikiloderma in a sustainable way, make an appointment now with one of our English-speaking specialists for a personalized study.
Treatment information
Information on laser treatment of Civatte's Poikiloderma

| | |
| --- | --- |
| Duration of treatment | 30 min |
| Recovery | 2-3 weeks |
| Results | Long lasting |
| Effects | After a few days |
| Anaesthesia | Not necessary, possibly EMLA cream |
| Price | From €200 |
Speed up your treatment!
To make an appointment or speak with one of our team members, please contact us using the options below.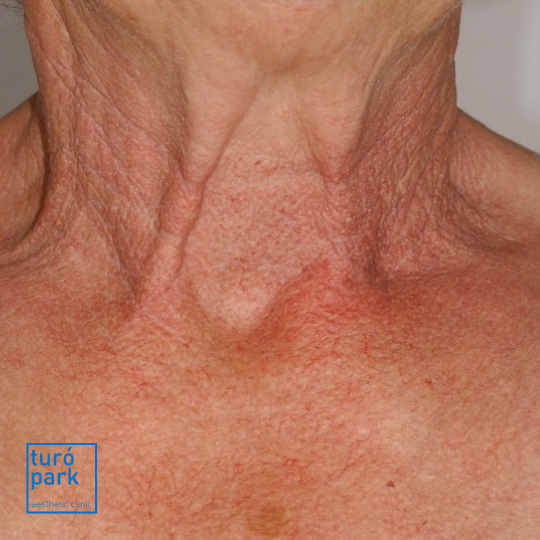 What is Civatte's poikiloderma?
Named after the French dermatologist Achille Civatte, who introduced it in 1923, Civatte's Poikiloderma (or Erythrosis coli) is a chronic disease characterised by a discolouration of the skin, mainly on the face, neck and sometimes in the décolletage.
What are the symptoms of erythrosis coli?
Civatte's poikiloderma is manifested by :
A brown and red colouration of the skin,
The appearance of small blood vessels that become very visible (telangiectasias),
Thinning of the skin on the neck and décolleté.
What causes Civatte's poikiloderma?
It is difficult to determine a single cause of the disease, it is more often a combination of factors that can trigger erythrosis coli:
Prolonged and repeated exposure to the sun
Genetic or hereditary disease
Allergic reaction to certain cosmetics or medications
Certain diseases or infections such as Lyme disease or lupus
It should also be noted that Civatte's poikiloderma is more common in fair-skinned women.
How can I avoid developing erythrosis coli?
It is obviously impossible to completely avoid Civatte's poikiloderma, but you can limit the risk factors by adopting certain behaviours:
Always protect yourself from the sun and limit exposure
Choose anti-reddening dermo-cosmetic products
Favour gentle gestures and avoid rubbing the skin
Watch your diet by limiting alcohol, spicy food, coffee, etc.
Reduce spots and redness in your décolletage!
The aesthetic medicine specialists at Turó Park Clinics offer you a free initial consultation to find out which options best suit your needs and expectations.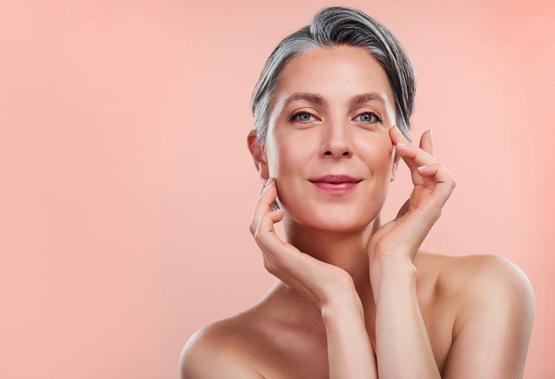 How does the treatment of poikiloderma with IPL and laser work?
It is important to know that Civatte's poikiloderma cannot be completely treated, but it can be greatly reduced in an aesthetic way with IPL and laser.
These techniques make it possible to send an intense light wave which precisely targets the two elements at the origin of the disease:
Melanin, which gives the skin its brown appearance
Haemoglobin, which is responsible for the red spots and marks
If you wish to have your treatment at Turó Park Clinics, an initial consultation will be carried out in order to establish a treatment plan and an estimate. This first appointment will also allow us to eliminate any contraindications to the treatment.
Each session lasts between 10 and 20 minutes. In general, 2 to 5 sessions are required, always at least 4 to 8 weeks apart.
Our laser and pulsed light specialists