Are you looking for a home physiotherapist in Barcelona?
At Turó Park Clinics our priority is your wellbeing and recovery. Whether you are recovering from an injury or in need of regular therapy, we are here to support you on your road to recovery. Our clinic prides itself on offering you personalised, quality physiotherapy care in the comfort of your own home.
Our home physiotherapist:
Elena Furió Alonso is a physiotherapist at Turó Park Clinics. A graduate of the Universitat Internacional de Catalunya (UIC), during her training Elena carried out several research projects, including the effectiveness of virtual reality in improving the motor function of the upper limbs of stroke patients. She is also interested in physiotherapy in neurology, as well as in aesthetic and trauma physiotherapy, children's respiratory physiotherapy, and in the treatment of TMJ disorders.
Accelerate your treatment!
To make an appointment with Elena or speak to one of our team, please use the options below.
In which areas do we provide services?
Our physiotherapist can travel anywhere in Barcelona, depending on your needs. To make an appointment or for more information, please contact us!
📍Gracia 📍 Eixample 📍 Sants 📍 Les corts 📍 San Cugat and surroundings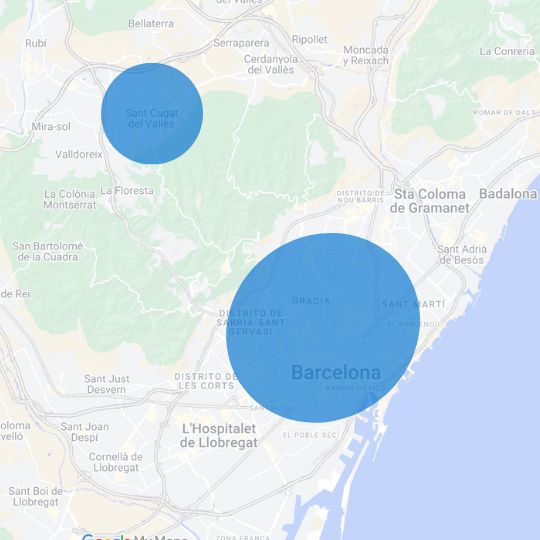 Our home physiotherapy services
Massages
We offer a wide range of therapeutic, relaxing and even anti-ageing massages, which you can choose to enjoy yourself or to gift to your loved ones.
Perineal rehabilitation
Physiotherapy plays a therapeutic and preventive role in the treatment of pelvic floor dysfunctions such as incontinence, chronic pelvic pain and sexual dysfunctions.
Aesthetic physiotherapy
Aesthetic physiotherapy aims to improve the aesthetic appearance of the body by means of different techniques and protocols. It is particularly effective against cellulite, wrinkles, stretch marks, scars, etc.
Treatment of low back pain
Acute low back pain, more commonly known as lumbago, is a common problem that manifests itself as severe pain in the lower back. It is necessary to consult a physiotherapist quickly to relieve the pain and rehabilitate your back.
INDIBA tecartherapy
Tecartherapy, also known as contact radiofrequency, is a physiotherapy technique that stimulates blood and lymphatic circulation, which leads to better tissue healing.
Dry needling
Dry needling is a technique used to relieve pain caused by muscle contractions, stimulate blood circulation and promote flexibility and relaxation.
Vestibular physiotherapy
Vestibular rehabilitation treats people suffering from vertigo, dizziness, balance problems and chronic vertigo using neural plasticity.