Treat your toenail fungus (onychomycosis) effectively with a laser!
Nail fungus, or onychomycosis, is very common and difficult to treat. There is no spontaneous healing and without treatment, the nail becomes increasingly deformed, causing aesthetic and even functional discomfort. Other nails can also become progressively contaminated.
Fortunately, there is now a fast and effective treatment using a laser that destroys the fungus with a temperature of at least 60 degrees. Turó Park Clinics is equipped with a state-of-the-art device, the Nordlys™ laser, which can treat 21 different indications including foot fungus.
If you want to treat your onychomycosis effectively, make an appointment now with one of our specialists for a personalised study.
Treatment information
Information on laser and IPL treatment of onychomycosis

| | |
| --- | --- |
| Duration of treatment | 15 min |
| Recovery | A few days |
| Results | Long-term |
| Effects | About 1 year |
| Anaesthesia | Not necessary |
| Price | From €200 |
Speed up your treatment!
To make an appointment or speak with one of our team members, please contact us using the options below.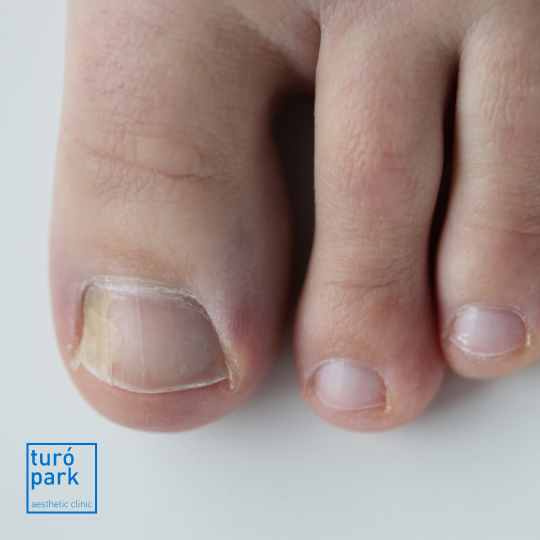 What is onychomycosis?
Onychomycosis, also known as nail fungus or nail fungus, is an infection of the nails.
This type of fungus is caused by various microscopic fungi (most commonly dermatophytes, Candida or moulds) that thrive in warm, moist and dark environments, such as shoes. These fungi feed on keratin, the protein that makes up the nail.
The most commonly affected nails are the big and little toes.
How does nail fungus manifest itself?
The main signs of onychomycosis are
A yellowish or brownish discolouration of a nail;
thickening of a nail;
a change in the shape of a nail;
a brittle, lacklustre nail;
pain when pressure is applied to the nail;
the nail may also turn black and separate from its bed.
What causes nail fungus?
Onychomycosis is caused by different types of microscopic fungi that thrive in warm, damp, dark places such as closed shoes. The fungus can be contracted by contact with an infected person or a surface where the fungus is found, such as the bathroom floor.
There are also several associated or predisposing conditions and diseases:
Genetic predisposition
Malalignment of the foot (hallux valgus in particular)
Smoking
Immunodepression
Regular swimming
Having cancer
Lymphoedema of the lower limbs
Psoriasis
Circulatory disorder of the feet
Continuous wearing of closed shoes
Being 50 years old or older
Hyperhydrosis (excessive sweating)
Say goodbye to your nail fungus!
The aesthetic medicine specialists at Turó Park Clinics offer you a free initial consultation to find out which options best suit your needs and expectations.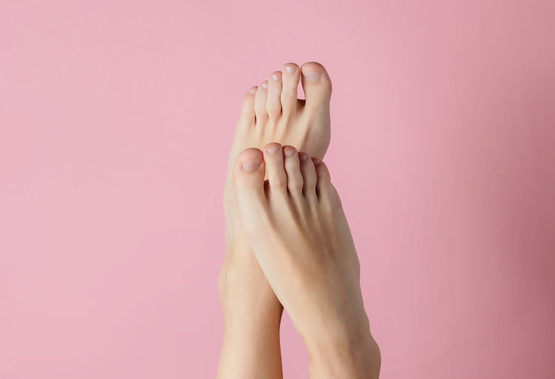 How does laser nail fungus treatment work?
The Nordlys system treats onychomycosis quickly and effectively by destroying the fungi with a temperature of at least 60 degrees.
The exact mechanism of action is not fully known. Heating the fungus is an important factor, but the introduction of a millisecond pulse adds a "photoacoustic" effect to the treatment, which weakens the cell structure of the fungus.
To minimise pain and protect the surrounding skin, the Nordlys system also features the latest cooling technology (SoftCool®).
If you wish to have your treatment at Turó Park Clinics, an initial consultation will be carried out in order to establish a treatment plan and a quote. This first appointment will also allow us to eliminate any possible contraindications to the treatment.
Before the treatment, it is advisable to file the nails to reduce their thickness. Each session lasts between 10 and 20 minutes. In general, 3 sessions are required, at 1 month intervals for fingernails and 2 months for toenails.
To be on the safe side, even if only one nail is affected, the others must be treated.
Our laser and pulsed light specialists