Are you looking for a treatment to strengthen your hair and stimulate its regrowth? Why don't you try hair mesotherapy!
In general, we all lose between 100 and 150 hairs per day, with hair loss peaking during the changing seasons. However, when this hair loss accelerates over a long period of time, it is called pathological hair loss or alopecia.
Several techniques are now proposed by specialists in aesthetic medicine to improve and stimulate the regrowth of the hair fibre while limiting the phenomenon of hair loss. This is particularly the case with hair mesotherapy.
If you are considering mesotherapy for hair, do not hesitate to make an appointment with our hair treatment specialist who will propose a personalised treatment plan according to your needs and expectations.
Treatment info
Information on hair mesotherapy treatment

| | |
| --- | --- |
| Duration of the treatment | 15 min |
| Results | 6 - 18 months |
| Effects | Inmediate |
| Anestesia | Not necessary |
| Price | From €250 |
Speed up your treatment!
To make an appointment or speak with one of our team members, please contact us using the options below.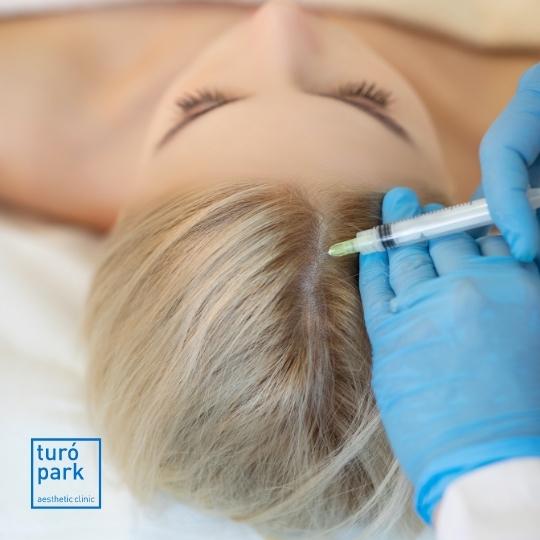 What is the treatment of hair mesotherapy?
By definition, mesotherapy is a medical technique that consists of injecting small doses of medication or other products into the skin, using a needle or an electronic injector gun.
In the case of this procedure, a mixture of amino acids, anti-oxidants, minerals (zinc, copper) and vitamins is injected into the scalp in order to stimulate the hair follicles on a long-term basis. The aim of this treatment is to improve the quality of the hair and to encourage its regrowth.
Who should get mesotherapy?
Scalp mesotherapy is aimed at all patients with the onset of baldness or moderate hair loss.
More generally, this treatment can be offered to men and women alike whose hair needs to be stimulated.
It is particularly indicated in the following cases:
Fine and dull hair
Early localized or diffuse hair loss
Androgenetic hair loss
Find the solution to your problem with our experts!
The hair treatment specialists at Turó Park Clinics offer you a free initial consultation to find out which options best suit your needs and expectations.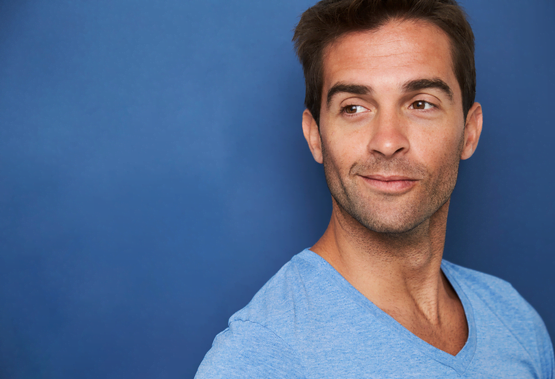 How does a hair mesotherapy treatment at Turó Park Aesthetic Clinic work?
All treatments offered by our specialists begin with an initial consultation to analyse hair loss and the stage of baldness. A personalised treatment plan is then proposed to you.
The actual treatment takes place over several sessions and usually combines a mesotherapy session for deep hydration, followed by a photomodulation session to stimulate hair growth. In general, two months of treatment are enough to notice a significant slowing down of hair loss and sometimes an increase in hair density.
After your scalp mesotherapy session, you can resume your activities almost immediately. Simply avoid shampooing immediately after your session to give your scalp time to absorb the elements necessary for its growth. Similarly, avoid swimming, sauna and steam baths for 48 hours.
Aesthetic companies and organisations