Aesthetic specialists who perform PRP facial injections in order to rejuvenate the skin's appearance of your face in Barcelona.
The injection of Platelet Rich Plasma (PRP) into the skin of the face is an aesthetic medicine technique that improves the quality of the skin by acting on the direct consequences of ageing. This natural method has been used since the 1990s for its healing properties, particularly in orthopaedics and reconstructive surgery, and is increasingly used in aesthetic and hair treatments.
If you are interested in this aesthetic treatment, the surgeons at Turó Park Medical Clinic will be able to explain the benefits and advise you on this natural, innovative and very effective treatment.
What is PRP facial?
PRP is the name for platelet-enriched blood plasma obtained from the patient's own blood by a centrifugation method. This platelet-rich plasma is collected and injected directly into the face to regenerate the skin.
PRP contains various growth factors, nutrients and vitamins to stimulate the regeneration of skin and subcutaneous tissue. It has been used for many years in the treatment of osteoarthritis and osteo-ligamentary pathologies, but is now also increasingly used in anti-ageing medicine.
One of the biggest advantages of platelet-rich plasma is that it is 100% biocompatible and without any risk of rejection or allergy.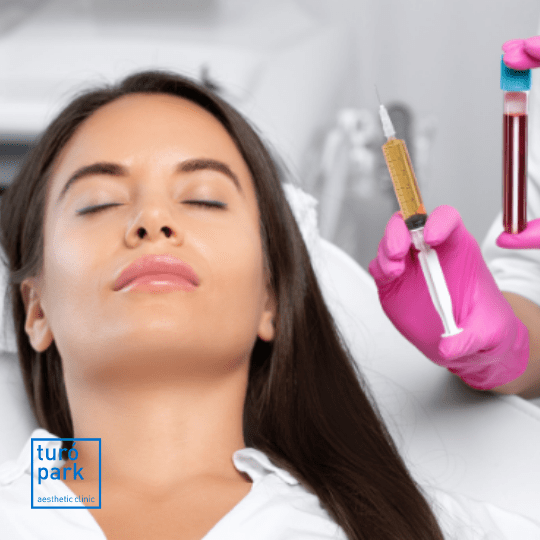 Why use platelet rich plasma injections?
The use of PRP on the face has many benefits. It allows one to :
Preserve the skin's natural moisture and stimulate collagen production
Improve skin texture and luminosity
Reduce sun spots
Treat dark circles
Improve the appearance of scars (especially acne scars)
How does a PRP facial treatment work?
The first step of the PRP treatment consists of taking blood from the arm. You do not need to be fasting in preparation for this step.
The blood tube is then placed in a centrifuge for 5 minutes to separate the red blood cells from the platelets.
Finally, the doctor injects small amounts of PRP into the dermis with a fine needle on the treated area. The injection session usually lasts between 15 and 20 minutes.
The results are visible after a few days, but depending on the patient, one to three sessions, spaced one month apart, may be necessary to obtain the desired result.
Instructions to follow after the treatment
After the injection of PRP on the face, it is advisable to wait at least 24 hours before washing the face. This will allow the injection to continue to act until the following day and thus be more effective. It is also important not to scratch the small blood scabs that may form during the treatment to avoid marking your skin.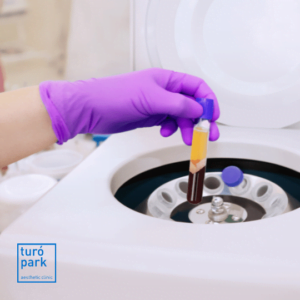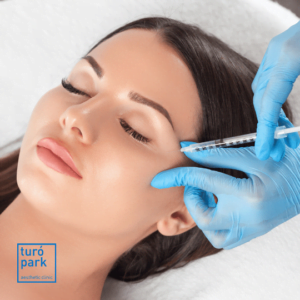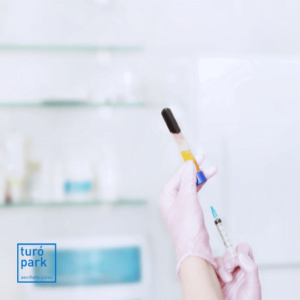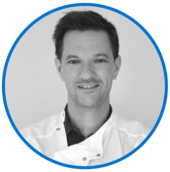 Dr. Rob van der Veen
Oculoplastic Surgeon & Ophthalmologist 🇬🇧 🇪🇸 🇩🇪 🇳🇱
Aesthetic & Reconstructive Eyelid and Facial surgery
Complex reconstructive procedures
Minimally invasive blepharoplasty
Eyelid malpositions, tumors, tearing eyes and orbital pathology treatment
See profile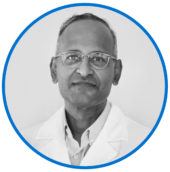 Dr. Lloyd Nanhekhan
Plastic and cosmetic surgeon 🇫🇷 🇬🇧 🇩🇪 🇳🇱
Aesthetic and reconstructive surgical treatments
Reconstructive microsurgery
Cosmetic procedures: aesthetic breast surgery, abdominoplasty, botox etc
See profile
Services Turó Park Aesthetic Clinic