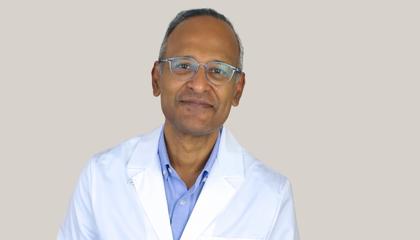 Dr Lloyd Nanhekhan
Plastic, aesthetic & reconstructive Surgeon
English - French - Dutch - German
Aesthetic and reconstructive surgical treatments
Reconstructive microsurgery
Cosmetic procedures: aesthetic breast surgery, abdominoplasty, botox etc
Make an appointment
Discover more about me
Dr. Lloyd Nanhekhan is a recognised expert in reconstructive microsurgery and has extensive experience in post oncology reconstructions of the breast, head and neck. He has over 25 years' experience performing both aesthetic and reconstructive surgical treatments, and provides our international patients with the best services at Turó Park Medical Center.
Dr. Lloyd can help you with a range of cosmetic procedures, including: aesthetic breast surgery, facial and neck aesthetic surgery, abdominoplasty (tummy tuck), blepharoplasty (eyelid surgery), otoplasty (cosmetic ear surgery), lipofilling, liposuction, botulinum toxin (botox) & filler treatments, scar revision and surgery of the hand.
Education
Dr. Lloyd was a Staff Physician in the Surgical Subspecialities Institute at Cleveland Clinic Abu Dhabi, prior to joining us. Additional experience includes that he was an associate professor of plastic surgery at the University Hospital of Leuven, Belgium. He completed his residency at Maastricht University in the Netherlands. He held several medical posts in Germany, the Netherlands, Belgium and Abu Dhabi.
Dr. Lloyd has served on the editorial review board of several medical journals and stays involved in research. He is an active member of the most relevant plastic surgery societies, including the American Society of Plastic Surgeons (ASPS), the Royal Belgian Society of Plastic Surgeons (RBSPS) and the Dutch Society of Plastic Surgeons (NVPC). He has participated in fellowships, including those at Chang Gung Memorial Hospital, Linkou, Taiwan and the Insitut de la Main, Paris, France.
Here at Turó Park Clinics, Dr. Lloyd provides his expertise with a high standard of care, always putting his patients first.
Languages: he speaks English, French, German and Dutch.
Discover the opinions about our doctor and leave your own.
Schedule an appointment with Dr. Lloyd Nanhekhan