Have you decided to stop smoking but don't know where to start? Are you looking for a professional in Barcelona for support?
The majority of smokers stop smoking without help. However, a smoker who is accompanied by a health professional has a better chance of success than one who is alone.
To stop smoking, the specialists at Turó Park Medical Center offer a comprehensive, personalised approach to give you the best chances to say goodbye to cigarettes for good. Therefore, make an appointment with one of our English-speaking general practitioners.
Do not hesitate to contact us about the coverage of your health insurance.
Why stop smoking?
Although this question may seem simplistic, it is essential to find the motivation to quit smoking.
Generally speaking, quitting smoking will improve your quality of life and your health. But more specifically, it has many short and long term benefits, such as:
Normalization of blood pressure and heart rate;
Removal of carbon monoxide and nicotine from your body;
Improved taste and smell;
Increased energy;
Decreased shortness of breath and coughing (more generally, breathing problems);
Improved breath and complexion;
Disappearance of erectile dysfunction in men and improved fertility in women;
Increased life expectancy (lower mortality from cardiovascular disease and lung cancer)
The benefits of quitting smoking are significant, at any age. It is never too late to quit! 
How to stop smoking?
For the most part, willpower alone is not enough to stop smoking. If you feel that you are unable to stop smoking on your own, get support from our team of highly-qualified health professionals.
Very effective treatments exist to help smokers quit. However, these treatments must be personalised for each patient, according to their motivation and their degree of physical and psychological dependence.
Turó Park Medical Center has a smoking cessation programme, which helps smokers quit successfully, through medical follow-up and ongoing professional support.
Each smoker is different, with different motivations and levels of addiction, as well as different health conditions and risks. The programme is therefore personalised and adapted to the patient's needs.
Initially, our team provides you with a personalised diagnosis in order to better understand your relationship with tobacco and your current state of health. More specifically, this first consultation will be an opportunity to:
Assess the patient's level of nicotine dependence.
Assess the patient's exhaled carbon monoxide level.
Screen for symptoms of early chronic lung disease (investigation if necessary).
Assess their psychological balance and weight fluxes.
Assess the level of motivation of the patient.
Once our team has identified your needs, they will propose a treatment plan which may include:
Nicotine replacement therapy (NRT): these substitutes help relieve the symptoms of nicotine withdrawal while avoiding the toxicity of cigarettes. They are adapted to each patient and can be presented in different forms (patches, chewing gums, sublingual tablets, mouth sprays or inhalers)
Other drugs such as bupropion or varenicline
Cognitive and behavioural therapies (CBT), neuro-linguistic programming (NLP) or Ericksonian hypnosis
Complementary treatments such as osteopathy
Once you have successfully withdrawn, our team is on hand to help you to maintain your new lifestyle and avoid relapse.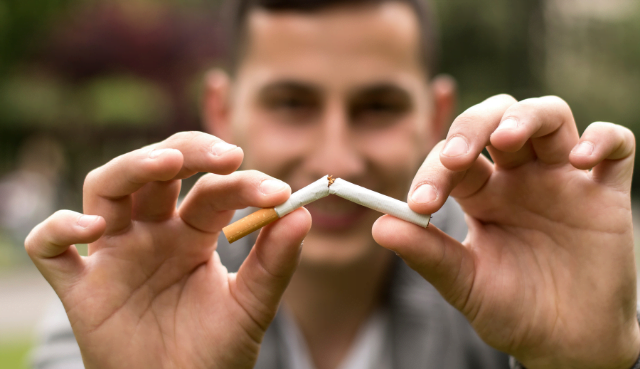 Why choose the stop smoking programme at Turó Park Medical Center?
The multidisciplinary nature of the team allows it to act on all the components of tobacco dependence: physical, psychological and behavioural. This will make it easier for you to achieve your goal and stop smoking for good.
In addition, we also offer you solutions to treat the disorders and other negative effects of smoking and withdrawal:
Smoking-related alopecia: there have been several studies that highlight the harmful effects of smoking on hair health. If you suffer from tobacco related alopecia, we are fortunate to have a doctor specialising in trichology and hair surgery.
Smoking-related dysphonia (hoarse, deep voice): Chronic laryngitis, usually induced by smoking, is linked to vocal cord oedema which can develop into a pre-cancerous lesion. If you have been suffering from a hoarse voice since smoking, it is therefore essential to consult an ENT specialist to rule out laryngeal cancer and treat the dysphonia.
Age-related macular degeneration (AMD): smokers are two to three times more likely to develop AMD than people who have never smoked. If you notice a loss of central vision, or the appearance of spots in your field of vision, don't wait to make an appointment with an ophthalmologist to limit the progression of the lesions.
Weight gain linked to stopping smoking: stopping smoking is often synonymous with weight gain. But this is not inevitable: 30% of those who stop do not gain an ounce. To help you stop smoking without gaining weight, or to lose weight after you stop smoking, our nutritionist can offer you a 100% personalised treatment plan so that you can rediscover the pleasure of eating well!
Services at Turó Park Dental & Medical Center