Dental veneers in Barcelona: get a smile makeover at Turó Park Clinics!
Dental veneers are a cosmetic dentistry treatment. In other words, they can improve the appearance of your teeth but don't have any effect on your dental health. People generally get veneers because they are not satisfied with the color, shape or alignment of their teeth.
Veneers are strong and long-lasting and provide a very natural finish. They offer a good alternative to time-consuming orthodontic treatment with braces.
Dental veneers are usually used on the front teeth (incisors or canines) for better cosmetic results. Your dentist may recommend using dental crowns for your teeth at the back of your mouth.
If you are interested in getting dental veneers in Barcelona, don't hesitate to make an appointment with one of our English-speaking dentists specialising in cosmetic dentistry!
Fast track your treatment
To book an appointment or speak with one of our friendly team, please get in touch using the options below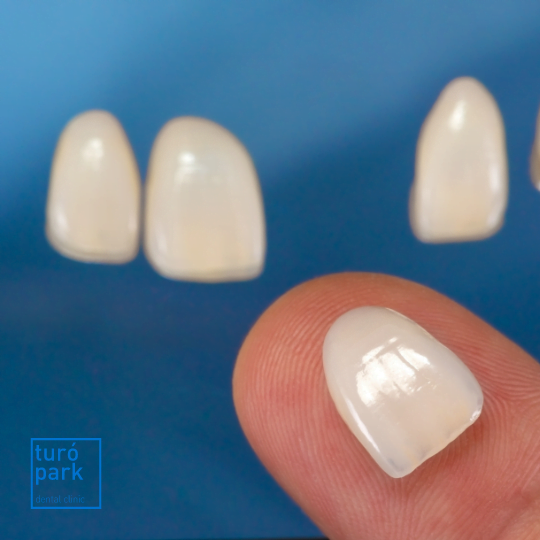 What are dental veneers?
Veneers are thin coverings designed and customised for each patient, that adhere directly to the front of the tooth to improve its appearance.
Dental veneers can be used to treat a number of different cosmetic concerns, including chipped, broken, discoloured, or smaller-than-average teeth.
Why choose dental veneers?
Dental veneers are a great way to enhance the look of several teeth at once.
The main benefits of dental veneers are:
They are affordable
They do not require invasive or long dental procedures.
They preserve the tooth enamel (the protective, hard outer surface of your teeth) better than composites or crowns.
They are comfortable because they are custom made to fit over your teeth
They are long-lasting over time
They can be incorporated into fixed dentures
The main advantage of veneers are that they require the removal of very little (if any) tooth enamel, something that can put you at risk for periodontal disease later on.
Types of veneers
There are different types of veneers available.
Before and after our dental veneers
Speed up your treatment!
To make an appointment or speak with one of our team members, please contact us using the options below.
Get the smile you deserve!
Dental veneers are a great solution to help you achieve the look you desire.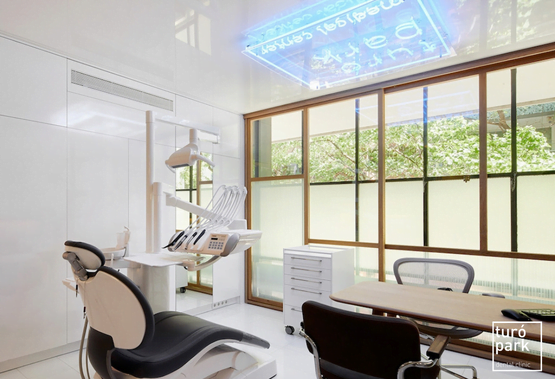 Reasons for and against veneers
For dental veneers
Dental veneers are one of the most popular and effective treatments in cosmetic dentistry. They can be used for functional and cosmetic correction of the following conditions:
Stained or darkened teeth
Chipped teeth
Crooked or misshapen teeth
Uneven spaces or a large gap between the upper front teeth
Malposed teeth (not requiring orthodontics)
Complications of veneers
Long-term teeth-grinding (bruxism) can wear down and shorten the incisor teeth at the front of your mouth. Veneer application may be a more complicated procedure if you grind your teeth.
Applying veneers to the incisors can lengthen them, but there is a risk of weakening the veneer attachment if your dentist does not build up the height of your teeth in the back of your mouth at the same time.
Some diseases and diets with large amounts of acidic foods and drinks can decrease the thickness of your outer tooth enamel or dentin.  The adhesive used to hold the veneers is not as strong, the thinner your dentin.
Your Turó Park Clinics dentist will talk more with you about whether or not you are a good candidate for dental veneers.
Our English-speaking specialist in cosmetic dentistry
Dental societies and organisations
Have a look to the financing options
Don't worry, we take care of everything!