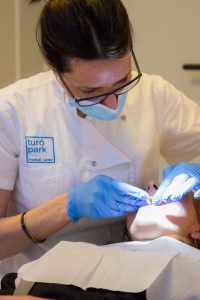 English-speaking dentists, orthodontists and oral surgeons in Barcelona
Founded in 2017 by Dr Madeleine Smit, the Turó Park Dental & Medical Center offer first class facilities and fully equipped dental cabinet in the heart of Barcelona.
Our team is formed by highly qualified dentists with extensive postgraduate training in different dental specialties, ready to provide you with completely personalised service in a relaxed and stress-free environment, using the most advanced equipment, materials and techniques.
We are devoted to improving the oral health of infants, children, adolescents and adults, and treat common dental problems, as well as emergencies and more complex oral health issues. For your comfort, we also offer conscious sedation to reduce anxiety, discomfort, and pain during certain procedures.
Our modern dental clinic has 2 treatment rooms: a sterilization room and a radiology room, all outfitted with the latest technology.
If you are looking for an English dentist in Barcelona, do not hesitate to contact us by email or by phone (+34 932 529 729).  Our English-speaking medical staff will be happy to answer any of your questions. Our dental clinic is open 7 days a week for emergencies.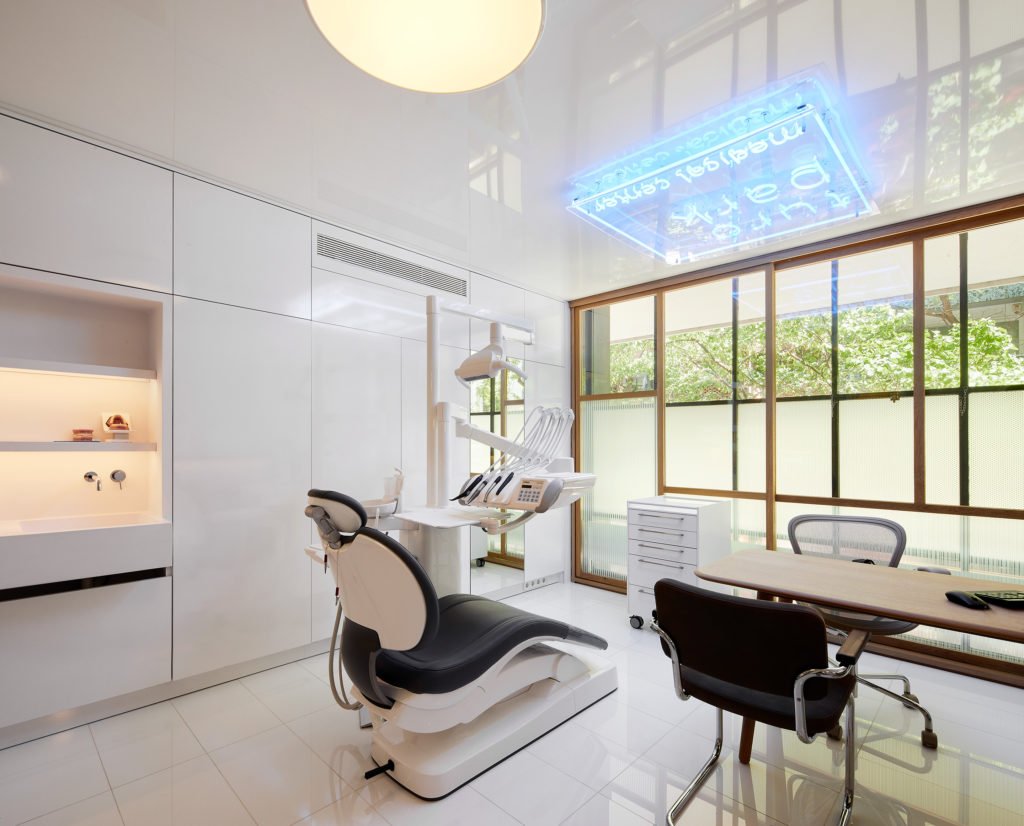 A professional and multidisciplinary highly qualified team of English-speaking dentists
Graduated from the most recognized universities in Europe, our dentists, oral & maxillofacial surgeons and orthodontists are perfectly prepared to deal with all types of cases using the most sophisticated techniques and can speak at least 3 different languages, including English.
Our team is composed of:
General dentists for routine and emergency care, dental hygiene, follow-up visits, and placement of fillings and implants.
Orthodontists for discreet, lingual and/or invisible treatments, with transparent aligners like Invisalign®
An oral maxillofacial surgeon to treat injuries or conditions of the mouth, jaw, skull, and face.
Dentists trained in endodontics, the placement of dental implants and preforming root canal treatments.
Cosmetic dentistry specialists who are experts in placing dental veneers and crowns, teeth-whitening treatments and other procedures to give you a perfect smile.
Get the best dental treatments in English
Our goal is to improve your dental health and enhance your smile, providing you with high-quality care in the heart of Barcelona.
Dental check-ups and Cleanings
Practicing good oral hygiene every day and having regular dental check-ups are the only way to keep your teeth and gums healthy.
If you're looking for an English dentist in Barcelona for your annual dental check up or for your clean and polish treatment, feel free to contact us by email or by phone (+34 932 529 729). Our English-speaking medical staff will be happy to answer any of your questions!
To know more about our dental check-up and cleaning services, please visit our dedicated page.
Conservative Dentistry
Conservative dentistry  is the part of dentistry destined to the prevention and treatment of common dental problems such as dental cavities, enamel erosion or discoloration.
Depending on your needs, our English dentists will be able to perform endodontics, reconstructions or fillings and root canal treatments.
Dental Emergencies
If you experience persistent toothache or you have a broken tooth, you need to consult a dentist urgently.
Our dental clinic is open 7 days a week for emergencies and we also offer an online dentist consultation service to address your oral health issues outside of our clinic hours.
If you want to make sure your problem is really a dental emergency, please visit our emergency dental treatment page.
Dental implants
Dental implants are often thought of as the best option for people missing one or more teeth as they are the closest thing to restoring a natural tooth. They are durable and permanent, and they look and feel like natural teeth.
If you're considering getting dental implants, do not hesitate to visit our dedicated page and book an appointment with our oral surgery specialist. After a thorough assessment, he will come up with a suitable treatment plan for your specific needs.
Child orthodontics
Beginning orthodontic correction early can have significant benefits for your child. Certain conditions such as crowding, may indeed be easier to address when teeth are still developing and the jaw is still growing.
As a result, most dentists recommend that children around the age of 7 see an orthodontist for an initial evaluation.
We invite you and your children to come to Turó Park Dental and Medical Center for an orthodontic consultation when they are around the age of seven. During this visit, our expert child orthodontist will examine, assess, and make a personal treatment plan for your child.  Do not hesitate to contact us by email (contact@turoparkmedical.com) or by phone (+34 932 529 729), if you need more information.  Our English-speaking medical staff and orthodontist look forward to answering any questions you might have.
You can also have a look at our child orthodontics page for more information.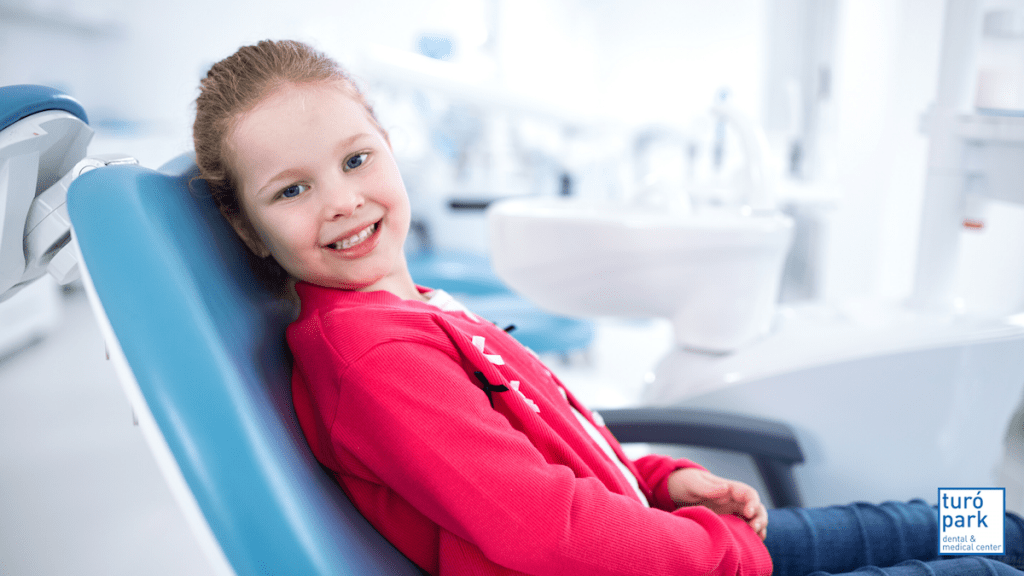 Thanks to advances in dentistry, patients can now get straighter teeth without having to wear traditional metal braces.
Our expert English-speaking orthodontic team, conveniently located in Turó Park, Barcelona, is specialized in invisible braces and can offer lingual and Invisalign treatments, depending on your needs and preferences.
If you're an adult interested in exploring the possibilities of orthodontic care, do not hesitate to contact us by email (contact@turoparkmedical.com) or by phone (+34 932 529 729). We look forward to seeing you (and your teeth) very soon!
Cosmetic Dentistry
If you are unhappy with the appearance of your smile and you're considering getting cosmetic dental treatment, you should know that there are several options to improve the colour or shape of your teeth.
At Turó Park Dental and Medical Center, we provide a range of cosmetic dentistry options to give you a beautiful, healthy smile :
Oral and maxillofacial surgery
Oral and maxillofacial surgery is a surgery specialty focusing on reconstructive surgery of the face, facial trauma surgery, the oral cavity, head and neck, mouth, and jaws, as well as facial cosmetic surgery. Dental implants, bone graft and extraction of wisdom teeth are the most common oral and maxillofacial surgical procedures.
Turó Park Dental and Medical Center offers you the most specialized dental surgery in a convenient location with English-speaking doctors, dentists, medical and office staff. Click here to know more about our oral and maxillofacial surgery services.
Dental X-rays
If you need to perform a panoramic dental x-ray or any other radiological examination of the mouth, you can access the latest generation of radiology equipment in our dental clinic in Barcelona such as a cone beam machine.
Teeth grinding / sleep disorder
If you suffer from bruxism, it is important to manage or treat the condition in order to prevent TMD from developing. If you want to discuss your treatment options with one of our English-speaking dentists, please feel free to schedule a comprehensive dental examination.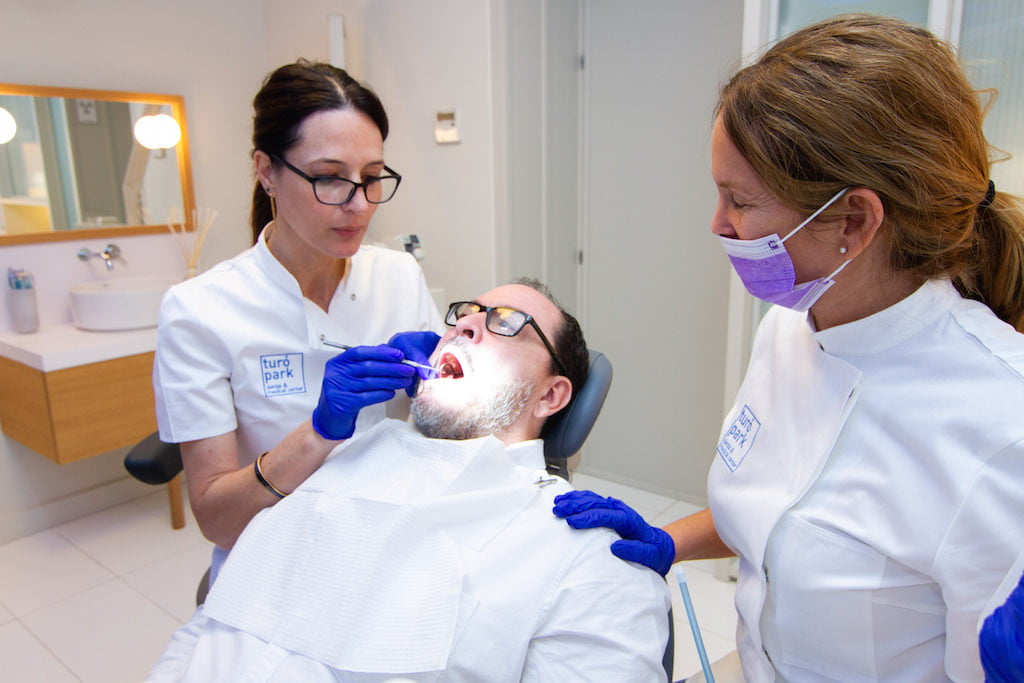 How do I get reimbursed for dental care in Barcelona?
Turo Park Medical and Dental Center is a private medical and dental clinic. We work with the major insurance companies offering private reimbursement policies such as: Axa Optima Plus, Asisa Integral, Allianz Salud Reemboolso, Cigna Global, DKV Mundisalud, Sanitas Mas, Mapfre Salud Reembolso, Bupa Company Gold, Geoblue.
Depending on your insurance plan, you can get a refund of about 80% to 100% of the cost of your consultation at our private clinic. We recommend that you check with your individual insurance provider to determine your coverage amount before coming to your dental appointment with us.
Our English-speaking dentists in Barcelona
You need a dentist ?
Contact us to get a quick appointment!