What are fillings of cavities or decayed teeth?
The filling process is a set of techniques that use various materials to repair a decayed or damaged tooth, restoring its function and normal shape.
It also prevents the progression and aggravation of caries or cavities, since it involves the removal, or filling, of the empty spaces that encourage the development of bacteria and further decay.
Book your appointment now
Different techniques of obturation and fillings
Filling techniques vary according to the material used to perform the operation. The main ones are composite, amalgam and glass ionomer cement. All have their advantages and disadvantages.
When choosing the material, the dentist takes into account different parameters, such as the location of the filling, the condition of the damaged tooth, allergies and the patient's budget.
At your Turó Park Dental Clinic in Barcelona, your dentist will be able to explain the reasons for your choice, which will be made after a careful examination of your mouth. An X-ray may be necessary, but it is not systematic.
Some of the most commonly used materials are:
The amalgam
It is the most commonly used material in operative dentistry and has been used for over 150 years. It is silver in color and contains an alloy of mercury, silver, copper and tin. It is used to repair teeth damaged by decay, cracks or fractures. It is not very aesthetically pleasing because of its dark color, but it is very durable and has economic advantages. It is used more in posterior teeth.
At present, there is some controversy surrounding amalgam due to the presence of mercury in its composition and, therefore, its possible toxicity. But nothing definitive has been established. Moreover, it should be remembered that the mercury contained in amalgam is enclosed in its structure. Although quantities of mercury vapor can be released from the filling during chewing, these doses are minimal and much lower than those contained in some foods such as fish.
Composite
Commonly known as "white filling", this material consists of a resin paste containing particles of quartz, silica and zirconium. It is polymerizable, that is, it hardens with light. It has the advantage of being aesthetically pleasing, since there are a multitude of tones available to the dentist to imitate the color of the tooth to perfection. A natural effect is guaranteed.
On the other hand, composites are sometimes not recommended for large fillings, as they are more fragile than other materials and do not last as long. This type of restoration is used in anterior and posterior teeth.
Ionomer cement
A very recent and innovative material, it is presented as powder and associated with a liquid to form a paste and fill the cavity of the lesion. It has the advantage of allowing aesthetic "tooth-coloured" restorations or reconstitutions, but also of having a good seal and a strong adhesion to the enamel.
What to expect when a filling is performed?
When the dentist performs a filling, he first removes the decayed zone of material, then cleans the cavity created and fills it with the chosen material. The operation is usually performed in a single session.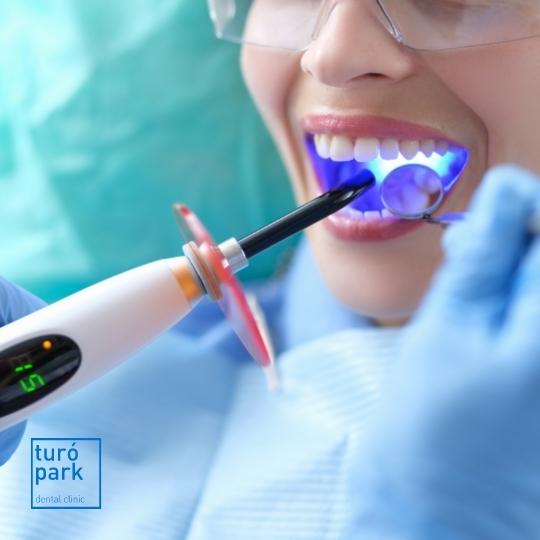 After a dental filling
It is normal to experience tooth sensitivity after a filling treatment. Teeth may be sensitive to pressure, air, sweets, heat or cold. This sensation takes one to two weeks to disappear after the tooth has gradually adapted to the new restoration. If sensitivity persists after this time, it is advisable to return to your dentist.
Durability
Dental restorations are usually very durable and remain in good condition for many years. Some fillings can last up to 15 years or more. But, although they are usually very strong, they are not permanent and will eventually need to be replaced. That is why it is important that you visit your dentist at Turó Park Clinics in Barcelona regularly, as he or she will carefully examine your fillings (with or without X-rays) to check their condition and decide if they need to be replaced.
Early replacement
There are several reasons for early replacement of a filling, such as cracks or percolation. This premature wear is due to several factors, such as grinding or clenching of the teeth (bruxism).
It is very important to replace these defective fillings quickly, as bacteria and food bits can get under a cracked or permeable filling. Since it is impossible to clean there, bacteria grow on the food pieces and produce the acid that causes cavities.
Good habits
Good oral hygiene care combined with good eating habits and regular visits to your Turó Park Dental Clinic dentist will help you keep your new restorations and enjoy a beautiful smile for a long time.
Do not hesitate to contact us by e-mail or by phone +34 932 529 729, if you need more information. We will be pleased to inform you
Do you need a dentist?
Do not hesitate to contact us to book your appointment.