Would you like to make an appointment with a dentist for a check-up and a scaling in Barcelona?
A check-up at the dentist is essential if you want to maintain your oral health. You should not wait until you have a toothache to make an appointment, on the contrary.
Prevention is essential to ensure that everything is in order and to avoid complications in the future. Detecting and treating possible oral problems, such as cavities, right away will ensure a longer and healthier life for your teeth.
These check-ups are also part of a wider prevention scheme. Indeed, oral diseases can be symptomatic of various illnesses: cancers, diabetes, etc. It is therefore important to consult a specialist for a check-up. It is therefore important to seek early diagnosis.
In addition, oral problems can lead to heart and joint problems and contribute to the maintenance of chronic diseases. Clearly, one should not take mouth ailments lightly, even if they are minor.
Fast track your treatment
To book an appointment or speak with one of our friendly team, please get in touch using the options below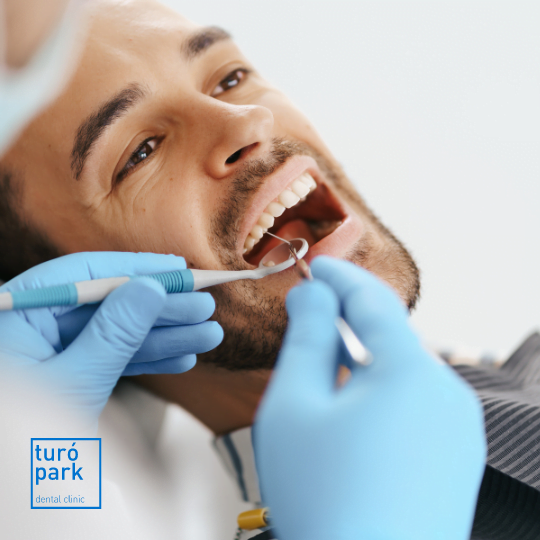 Your first visit to Turó Park Clinics: what to expect?
The new patient visit
At our modern dental center in the heart of Barcelona, we spend extra time with you when we meet you for the first time. Fortunately, we have multilingual dentists who speak your language.
It is important to us that we learn fully about your medical and oral health history, including how often your brush and floss your teeth and see a dentist.
Next the dentist will look at your teeth, mouth and gums to assess whether dental care is needed. They will be looking carefully for signs of tooth decay, tartar buildup and other risk factors for periodontal disease.
In some cases, the dentist will recommend doing a panoramic X-ray to better examine your teeth and jaw structure.
 

Teeth scaling

Sometimes it can help you feel less anxious when you know what to expect. Before starting the actual cleaning process, our dentists start with a physical exam of your entire mouth. They will use a small mirror to check around your teeth and gums for any signs of gingivitis (inflamed gums) or other potential concerns. They will also be looking for any plaque and tartar.

Plaque is a sticky film made up mainly of bacteria, but also of salivary proteins, acids and sugars, which builds up on your teeth. Over time, plaque hardens and thickens into tartar. You can't remove tartar with a toothbrush- that's why you need to see a dentist for regular cleanings to remove any built-up tartar. If tartar builds up over time it can cause cavities, gingivitis, bad breath, periodontitis (mouth infections) or abscesses, and even tooth loss. Turó Park's dentists use the most-up to date ultrasonic tools to thoroughly and quickly remove all plaque and tartar with minimal discomfort for you.

After removing the tartar and plaque, our dentists painlessly polish your teeth to leave you with a healthy, clean-smelling mouth and shiny teeth. We always finish with a flossing demonstration with dental floss, making sure you know the best way to clean your teeth in between your dental appointments.
A radiant smile thanks to our expert hygienists.
A quick and convenient dental cleaning anytime of day - from morning to lunch, let our hygienists give you a radiant smile!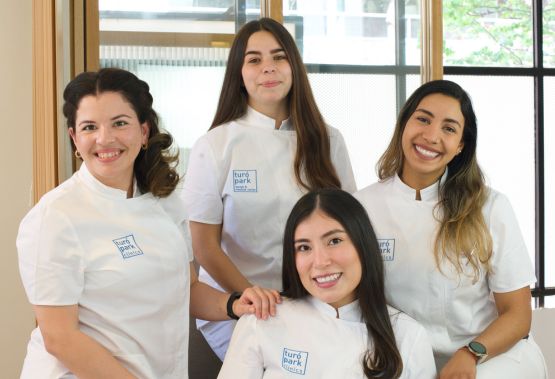 How often should you go to the dentist for a check-up and cleaning?
After your first visit, Turó Park's English-speaking dental specialists recommend dental visits once a year. Dental visits for cleaning (removal of built-up tartar or scale on the teeth) are typically done every 4, 6 or 12 months. Sometimes the time between visits can vary depending on certain factors such as:
The age of the patient
Children and adolescents are more likely to develop cavities than adults, so we like to see them every 6 months for dental visits.
Risk factors for periodontal disease
For example, smoking, diabetes, unhealthy diet or alcohol consumption all affect your teeth and mouth's health.
Oral history
Pre-existing oral health conditions such as fragile tooth enamel and gingivitis (gum disease) may make it more important for you to be seen by a dentist more frequently. Additionally, some families have a greater risk of periodontal disease and family members may need more regular visits.
At all of our patients' first visit our dental specialists will develop a personalized dental check-up schedule adapted to your risk factors and health history. Consistent visits over a long period of time builds a base of knowledge about your dental health and allows your Turó Park dentist to take the best possible care of your over the course of your lifetime.
How often should I schedule a scaling?
The frequency of scaling also depends on the individual patient. During your first visit to Turó Park Clinics, your dentist will inform you of the interval between sessions.
Scaling can be performed every 4, 6 or 12 months. If you have periodontal disease, you may also need to have your teeth scaled more frequently than average.
Our English-speaking dentists
Dental societies and organisations
Have a look to the financing options
Don't worry, we take care of everything!