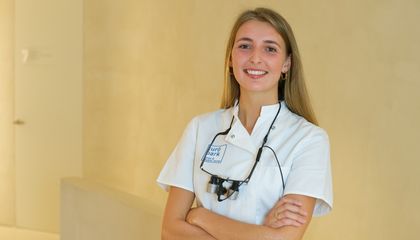 Discover more about me
Léa Bonnard is part of the dental team at Turó Park Clinic. She is a general dentist and specializes in orthoposturodontics. She has obtained plenty of hands-on experience through her work opportunities in both France and Spain. In Spain she worked as an intern at Turó Park Dental and Medical Center. Meanwhile in France she served as a doctor of dental surgery replacement.
Education
Léa Bonnard completed dental school at the Universidad Internacional de Catalunya (UIC), Spain. During those five years of university, she simultaneously achieved the following: Certificate of Internal Student in the mater degree of the Surgery Department, a certificate of Internal Student in the master degree of the Periodontics Department (both in Barcelona, Spain), and lastly a diploma in Orthoposturodontics in France.In addition to her impressive academic background and work experience.
Discover the opinions about our dentist, and leave your own.
Universities and medical societies
Léa Bonnard has also attended several conferences regarding dentistry, including the Spanish Society of Stomatological and Aesthetic Prosthesis (SEPES), Spanish Society of Periodontology and Osseointegration (SEPA) and the Barcelona Dental Show (BDS)
Schedule an appointment with Dr. Léa Bonnard