Emergency Dentist in Barcelona – Immediately available dentists
Do you need to urgently find an English-speaking dentist in Barcelona? Whether you suffer from a broken tooth, a toothache, a dental abscess or have lost a dental crown, do not waste time and make an appointment now with a dentist from our dental office.
Just like medical emergencies, dental emergencies require rapid management to relieve pain and avoid complications. It is therefore important to know how to identify a dental emergency and to know what to do while waiting to see the dentist.
What is considered a dental emergency?
Definition of a dental emergency
A dental emergency is any dental problem that needs immediate treatment in order to :
Stop bleeding
Alleviate severe pain
Save a tooth
As a result, dental emergencies only relate to the following oral problems:
Acute infections
Intense pain
Severe bleeding
Orofacial trauma
How can you tell if you're having a dental emergency?
If you have a toothache or have had an accident, you may be wondering if your situation qualifies as a dental emergency. To help you figure it out, here are some signs of dental emergencies:
Unbearable pain (painkillers no longer are effective)
Severe bleeding
Swelling, hematoma
Fever, dizziness, intense headache
Numbness or tingling around the mouth
If you have any of these symptoms, you may be experiencing a dental emergency and you should consult a dentist immediately. The goal will be to reduce pain and then eliminate it.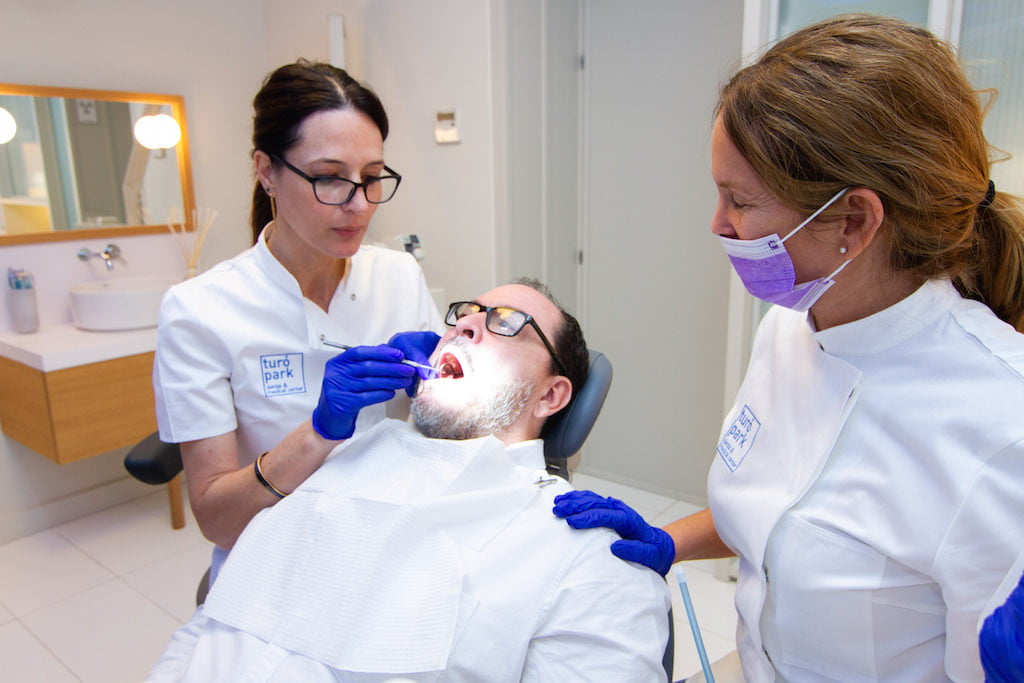 Most common dental emergencies
Long-lasting toothache
If you are suffering from a toothache that persists more that 2 or 3 days and you are in such pain that you cannot sleep or eat properly, you need to see a dentist quickly. Intense and severe tooth pain that won't go away could signify you have an infection on the root of your tooth and it's important to treat it right away to avoid complications.
While waiting for dental care, you can alleviate the pain applying a cold compress or an ice pack to the outside of your mouth or cheek.
Dental abscess
Abscesses are infections that occur around the root of the tooth or in the gum area between teeth. They can damage surrounding teeth or tissues, and the infection can spread to other parts of the body if not attended to in time.
Signs and symptoms of a dental abscess include: intense pain that spreads to your ear, jaw and neck on the same side as the affected tooth or gum, unpleasant taste in your mouth, and sensitivity to hot or cold food and drink.
Because of possible serious health problems that can result from an abscess, you should consult your dentist as soon as possible.
Chipped or broken tooth
If you have a cracked or a broken tooth, recover all parts of the broken tooth and call your dentist immediately. If you don't see a dentist quickly, your tooth could be damaged further or become infected, possibly causing you to end up losing the tooth.
In the meantime, rinse your mouth with water and apply a compress to the affected area for 10 minutes (until the pain stops). To alleviate the pain, you can also place a cold compress to the outside of the mouth or cheek near the affected tooth to ease pain.
Unfortunately, a broken tooth can only be repaired if the root is left intact. Otherwise, it will have to be extracted and possibly place an implant to replace the tooth.
Knocked-out tooth
If your tooth falls out or is knocked out of your mouth, there's a chance it can be re-implanted back into your gum. But it is very urgent to consult an emergency dentist.
To help preserve your tooth and increase your chances for a successful reimplantation, recover the tooth and rinse the root with water if it is dirty. Then, place the tooth in a little bit of milk (or physiological serum) and see your dentist as soon as possible. A broken tooth has a good chance of being saved if it is treated within one hour after the incident.
What are considered orthodontic emergencies?
Actually, there are very few orthodontic emergencies; most problems can be solved by the patient without having to see the orthodontist.
However, sometimes there may be situations of discomfort, pain, deterioration of braces, etc. Sometimes a wire slips out of place and is exposed in contact inside the cheeks or mouth causing irritation. Another urgency is the detachment, breakage or splitting of the braces bands or springs.
As with dental emergencies, it is advisable to consult your orthodontist as soon as possible to avoid discomfort. For more information about orthodontic treatments, please visit our orthodontist, Dra Madeleine Smit, website by clicking here.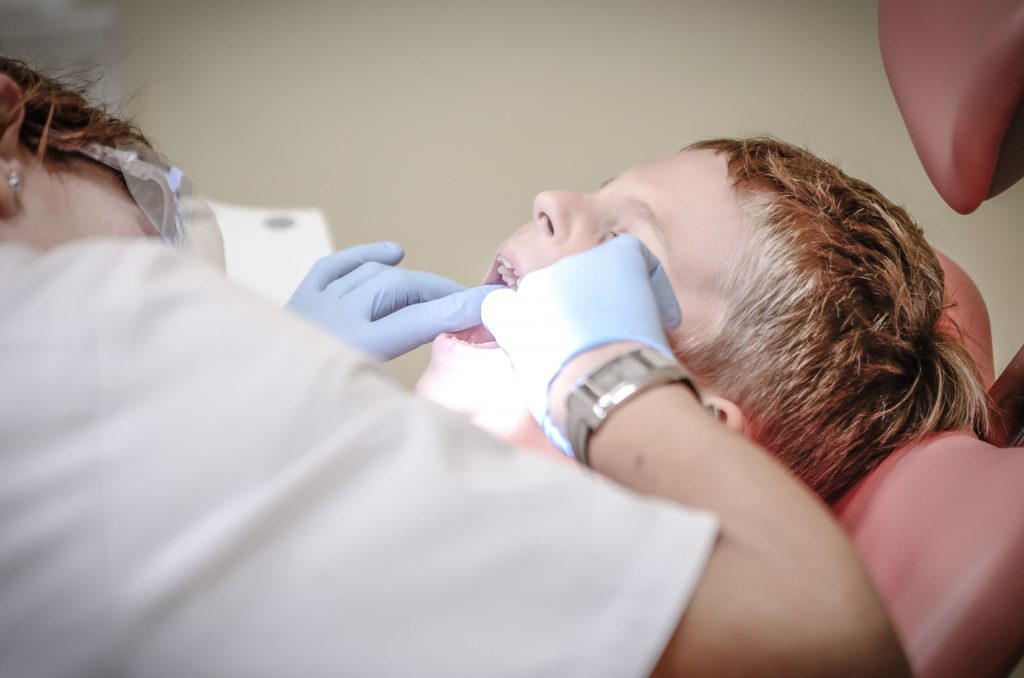 Emergency dental treatment in Spain : what to do if you have a dental emergency?
If you need an emergency dental treatment while in Barcelona, do not hesitate to contact us by email or by phone (+34 932 529 729).  Our English-speaking medical staff will be happy to answer any of your questions. Our dental clinic is open 7 days a week for emergencies.
If you need to consult a dentist in Barcelona outside the opening hours of our dental office, you can also access our video consultation service. You'll receive your diagnosis report, medical prescription, work stoppage certificate or other medical certificates from home.
As a reminder, a dental emergency should be treated as soon as possible because they usually have an infectious origin and if not treated promptly, more serious health problems can arise. Regardless of the type of emergency, all must be treated by a dental health professional, in order to preserve the health of your teeth.
The best way to avoid a dental emergency is to go to the dentist as often as possible; at least once a year and maintain impeccable dental hygiene throughout the year.
Do you need a dentist?
Don't hesitate to contact us to make an appointment.