Dentist
A beautiful smile with healthy gums
English - Spanish - Catalan - French
Implantology and oral surgery
Prosthodontics fixed and removable
Book your appointment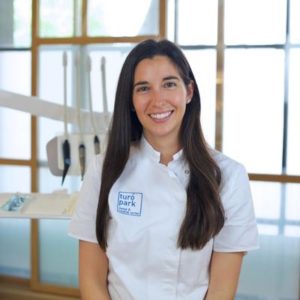 Looking for an English-speaking dentist in Barcelona? At Turó Park Dental Clinic, Dr. Carlota Herrera specializes in implantology, surgery and oral rehabilitation. Receive the best treatment for dental implants, preventative dental care and aesthetic rehabilitation of your smile.
Dr. Carlota Herrera studied, with special honours in oral pathologies, at one of the best dentistry universities in Europe, the International University of Catalunya (UIC). She then attended the University of Barcelona, achieving honours in periodontics (speciality of dentistry that focuses on gum health) and has already achieved a masters degree in implantology, surgery and oral rehabilitation.
Dr. Herrera has developed a level of specialisation in numerous dental procedures over the course of her training and career. Her areas of expertise include:
Implantology

Oral surgery

Periodontal treatments

Prosthodontics fixed and removable

Prosthetic implant rehabilitation

Restorative dentistry

Hyaluronic acid injections 
She is very active in the fields of research and training, being a member of the Spanish Society of Implantology (SEI) and participates in events such as the World Congress of Esthetic Dentistry (SEPES). 
Bringing a focus on the wellbeing of the patient in general dentistry, she uses her comprehensive experience in both preventative, reconstructive and esthetic dentistry to achieve your desired results.
She speaks English, Spanish, French and Catalan.
Dr. Carlota Herrera looks forward to welcoming you to Turó Park Dental Clinic to care for your smile.
Discover the reviews of this Doctor and make your own.