Would you like to have a podiatry assessment in Barcelona?
The purpose of a podiatry assessment is to examine the health of your feet. It is an opportunity to determine whether they are well positioned and functional, as a problem with the feet can lead to knee or back pain.
If you would like to have a foot assessment in Barcelona, please make an appointment with one of our specialist chiropodists.
What is a podiatry assessment?
The podiatry diagnosis consists of a structural and functional evaluation of the foot and other parts of the body such as the knee, hip, back, etc., in order to highlight anomalies, difficulties, dysfunctions that impact or risk impacting your body.
Thanks to a gait analysis, we can indeed prevent and treat various pathologies that manifest themselves in the lower limbs and notably
Plantar fasciitis,
Calcaneal spur,
Metatarsalgia,
Chondropathy,
Repeated sprains,
Tendinopathies,
Pelvic tilting, etc.
Who is the podiatry assessment for?
The podiatry assessment is aimed at all people who wish to determine whether their pain or problem (of the back, foot, hip, knee or ankle) can be relieved by wearing orthopaedic insoles (classic, thermoformed or thermo-welded). This can be done for adults, but also for children from 5-6 years old.
A check-up with a chiropodist is particularly recommended for overweight people, people who have undergone surgery (lower limbs, pelvic girdle, spine), the elderly, pregnant women, workers in a standing position, athletes and people suffering from morphological anomalies (hollow feet, club feet, varum or valgum knees, etc.) or sensory motor deficiencies (multiple sclerosis, rheumatoid diseases, Parkinson's disease, etc.)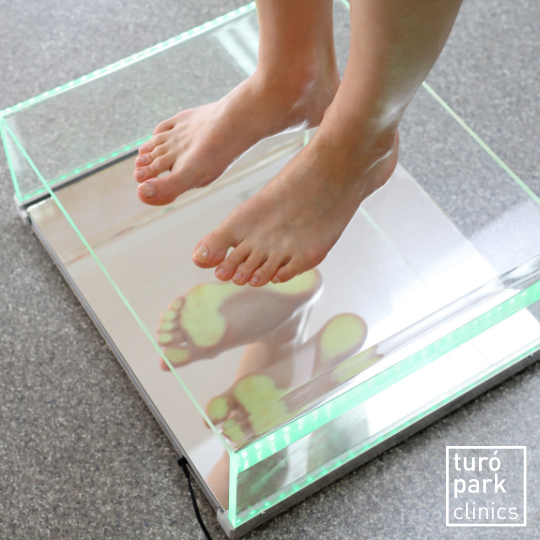 How does a chiropody assessment work?
Lasting 45 minutes to an hour, the podiatric assessment is divided into several stages:
Interrogation
The consultation begins with an interrogation which will allow us to specify the reason for the consultation, to know the patient's lifestyle (sporting activities in particular), as well as his medical, surgical and family history.
Clinical examination in standing position
The podiatrist then explores the patient's posture and carries out certain biomechanical tests to provide information on joint amplitudes, muscle tone and the position of the lower limbs in space.
Clinical examination in unloading
This examination in the supine position provides information on the joint and muscle ranges of the patient's body without being subjected to forces. It is useful for locating the painful area more precisely and highlighting the structure(s) concerned.
Static posture analysis
At this stage of the consultation, the podiatrist studies the patient's static footprint using a pressure platform. This allows the analysis of the standing position on the two immobile feet and to note instabilities in the frontal (front) and sagittal (side) planes.
Dynamic gait analysis
The aim of the dynamic examination is to analyse the gait and to note whether the patient has pronation (feet in), supination (feet out) and a physiological stride.
Quantified gait/running analysis
Quantified gait analysis is a medical examination in which a patient's gait is measured to identify defects and deduce causes. The primary purpose of this examination is to characterise and understand a patient's gait defects in order to guide therapeutic choice. Secondary purposes may be to evaluate the effect of a treatment or to monitor the evolution of a patient's gait.
What treatment is offered following a podiatrist's assessment?
The treatment depends on the parameters observed during the podiatry assessment and is specific to each patient. It usually involves wearing orthopaedic inserts, strengthening or stretching exercises for different muscle groups, etc.
If you are suffering from a problem that could be related to your feet, don't wait to have a podiatry assessment. In general, an early diagnosis offers better results.
Podiatry assessment: frequently asked questions
Yes, the podiatry assessment is an essential preliminary step to establish a diagnosis of the possible need to wear orthopaedic inserts.
A podiatrist is a practitioner of pedicure and podiatry. However, as the title of posturologist is not currently regulated, it is important to check that the therapist holds a DIU (inter-university diploma) in clinical posturology.
Orthopaedic insoles may be recommended to relieve pain elsewhere, for example in the lower back, legs or ankle. People who tend to roll their feet inwards, and those with high arches of the foot should wear orthotics.
Our multilingual podiatrists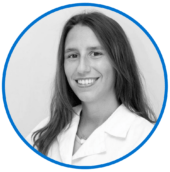 Andrea Cao
Podiatrist 🇬🇧 🇪🇸
Nail treatment and reconstruction
View profile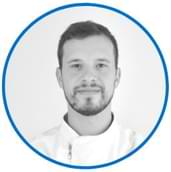 Dr. Alberto Cuesta
Podiatrist 🇬🇧 🇪🇸
Nail treatment and reconstruction
Manufacture of orthopaedic insoles
View profile
Services Turó Park Dental & Medical Center