Are you looking for a pediatric dentist in Barcelona?
As soon as your child's teeth appear, usually around 6 months, they need to be treated as carefully as adults teeth. Although milk teeth will eventually fall out, they require specific care to avoid dental complications in the future. Cavities and dental traumas, which are very common in toddlers, can damage the germ of the permanent tooth and cause long-term functional problems.
Once the permanent teeth appear, a follow-up with a pediatric dentist is necessary to ensure that the growth of the teeth and tooth alignment is correct. If there are any anomalies, the intervention of an orthodontist can correct the misalignment and prevent the arisal of swallowing, chewing, breathing, and even pronunciation problems.
If you are looking for a pediatric dentist, book an appointment with one of the practitioners at Turó Park Clinics. Experienced, calm, and patient, they will know how to make your child feel right at home so that he or she can enjoy their best first experience at the dentist!
Fast track your treatment
To book an appointment or speak with one of our friendly team, please get in touch using the options below
Why choose a pediatric dentist?
Apart from the unique needs of children's teeth, choosing a pediatric dentist is beneficial as they take the time to comfort your child and ensure they have a positive dental experience. Dental anxiety frequently originates in childhood, making it crucial for a child's initial encounter with a dentist to go as smoothly as possible.
Our pediatric dentists aim to teach even the youngest children about the significance of oral hygiene and the risks of tooth decay and other oral problems.
When should you take your child to the dentist?
The first visit to the dentist for children
Although it is possible to see a dentist as soon as the first teeth appear, the first visit to the dentist is usually between the ages of 3 and 4, when the child is old enough to follow the dentist's instructions and understand their advice.
This consultation is very important because it allows early detection of cavities but also to put in place gestures and good habits in terms of brushing milk teeth and diet.
At Turó Park Clinics you will experience a warm familiar atmosphere during your consultation with an English-speaking dentist. Everything is put in place to ensure that this first dental experience is a positive one. During this appointment, the exchange between the dentist and the child is essential. The practitioner, after inquiring about the eating habits of the young patient, will give advice on an adapted brushing technique. Having a dentist who can communicate in your child's language is therefore very important.
Control visits
After the first visit, it is recommended to see a pediatric dentist every year, or at least at those pi times. The dentists at Turó Park Clinics in Barcelona are there to remind you of the steps in this essential follow-up :
It is around 6 years old that the first permanent molars appear. They are essential for other the teeth's stability, but they are often affected by cavities due to their location. A visit to the pediatric dentist at this age is generally the time to seal those interdental grooves to prevent the risk of caries.
Protect your children's teeth.
Make an appointment with one of the dentists at Turó Park Clinics for a complete check-up tailored to your age and needs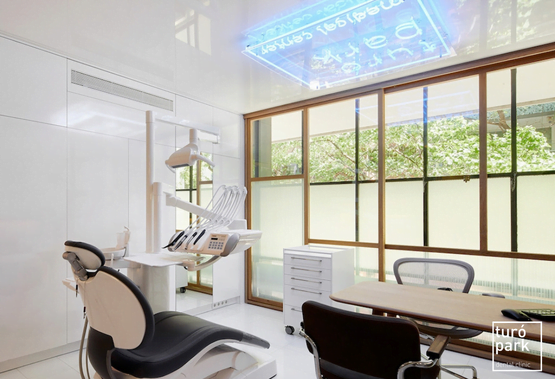 Taking good care of your child's teeth: advice from our dentists
It is important to get young children used to brushing their teeth as soon as the first teeth appear, using a small soft-bristle brush or a fingertip toothbrush. This way, brushing will become part of their routine and the first teeth can form in a clean environment.
From the age of one, you can use a small children's toothbrush and a suitable toothpaste. It is recommended that you help your child when brushing their teeth until the age of 6 years old when he or she will be able to do it on their own.
Remember that the teeth should be brushed vertically, always going from the gums to the tips of the teeth, at least twice a day for two minutes.
Apart from daily brushing, our dentists remind you that certain behaviours should be avoided in order to keep your teeth white and healthy from an early age:
Never put sugar or honey on the teat or feeding bottle.
Do not let your child fall asleep with the feeding bottle.
Limit consumption of sweet foods or beverages, such as candy and soft drinks.
Regularly check the appearance of your child's teeth and be alert to the appearance of stains near the gums.
Book an appointment at Turó Park Clinics at least once a year.
Our English-speaking pediatric dentists
Have a look at the financing options
Don't worry, we take care of everything!