Are you looking for an English-speaking podiatrist in Barcelona?
The podiatrist is a specialist qualified, through years of study and training, for the diagnosis and treatment of various foot, nail and posture conditions.
At Turó Park Medical Clinic, our team of English-speaking podiatrists welcomes you to our clinic in the heart of Barcelona to carry out a complete clinical examination and to treat all pathologies related to feet and posture in a personalized and informative manner.
Do not hesitate to make an appointment now with our podiatrist.
Fast track your treatment
To book an appointment or speak with one of our friendly team, please get in touch using the options below.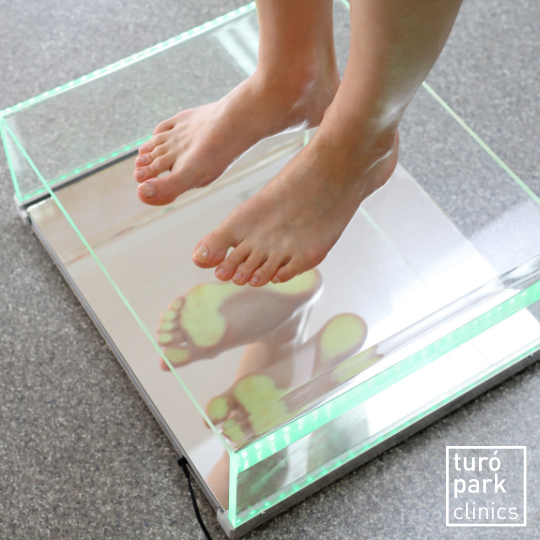 Podiatry assessment
The purpose of the foot check-up is to assess the health of your feet. It is an opportunity to determine whether they are well positioned and functional, because a problem with the feet can lead to knee or back pain.
Chiropody / Medical pedicure
Carried out by a podiatrist, pedicure treats skin and nail disorders, in particular calluses, corns, ingrown toenails, sub-nail haematomas, blisters and cracks.
Treatment of ingrown toenails
Favoured by poor nail clipping and repeated trauma (shoes that are too tight, etc.), ingrown toenails are a very common problem that must be treated properly to avoid complications.
What is the role of a podiatrist?
Podiatry, or otherwise known as podology, is the field of healthcare dedicated to the study of the foot and its anatomy, mechanics and different possible pathologies. 
The podiatrist therefore intervenes in the diagnosis and treatment of the many possible pathologies related to the foot and ankle. They can offer different types of services:
Pedicure care (corns, ingrown nails, warts, etc.)

Manufacture of orthotics

Production of personalized insoles

Orthopodology

Treatment of warts

Fungal treatments

Nail surgery
It is advisable to consult a podiatrist as soon as you feel pain or discomfort, particularly when walking, but also at the first realization of the appearance of corns, calluses, or other symptoms on your feet, skin or nails.
What pathologies can be treated by a podiatrist?
There many pathologies associated with podology that vary across subjects such as the mechanics of the foot, conditions of the nails and conditions of the skin.
At the first sight of unusual appearances on your feet, pain or discomfort in these areas, it is best to consult a podiatrist who will then propose the best possible solution and will offer reliable treatments.
Among the pathologies there are:
Conditions related to foot structure and walking: providing silicone orthoses, plantar supports, platforms and moulds. 

Nail infections of the feet: paronychia, onychomycosis, onychogriphosis, onychocryptosis or ingrown nails, botryomycome, nail reconstructions i.e. Chiropodology.

Skin disorders: athlete's foot, hyperkeratosis, warts, helomas, dermatomycosis, fungal treatments.

Malformation and deformations of the feet: Bunions (Hallux Valgus), hammertoe, claw toe, flatfoot (Pes Planus), high Arches (Pes Cavus).

Morphostatic and dynamic disorders of the feet: Sever's disease, calcaneal spine, hollow feet, sesamoeidopathies…

Specific pathologies such as hyperhidrosis (excessive sweating of the feet)
Symptoms related to other pathologies: some diseases such as diabetes can promote pain or the development of diseases in the feet. General practitioners or other specialists may make referrals to a podiatrist for their expertise in the effects of certain diseases on the feet.
Do you have problems with your posture or gait and need help to resolve the balance?
Our podologist provides solutions using the most innovative and advanced technology. 
Baropodometric platforms and molds

Orthopodology: silicone orthoses and plantar supports 

Chiropractic

Silicone manufacturing

Orthopodology
More specifically, it is possible for our podiatrist to provide solutions to your specific case using, for instance, personalized insoles, baropodometric platforms or plantar supports. All of these treatments are highly personalized and created on an individual case-to-case basis. 
But what happens in a consultation for posture and gait correction?
Normally, in order to develop these personalized services, an in-depth clinical posture analysis is required to then offer you adapted insoles.
Before creating insoles, the podologist first reviews the reasons for your visit and then a full foot examination while lying down to determine the painful areas. The examination continues in a standing position to observe your contact points and posture. 
Next, and depending on your case, they may use a treadmill and a baropodometric platform to observe you walking and finally, your shoes are examined for deformations and wear.
Our podiatrists make sure to keep you informed at all times throughout the process, throughout which you can also ask any questions.
Healthy feet, the basis for a healthy body.
Our podiatrists are available to diagnose and treat all your posture and foot problems.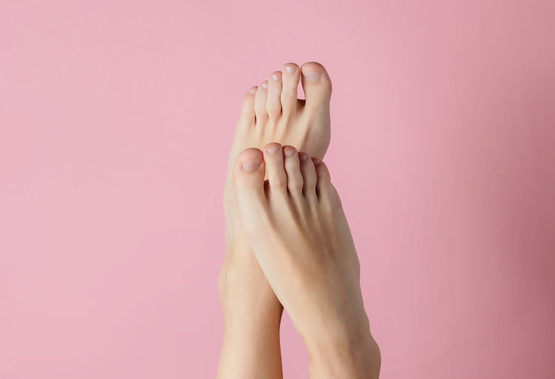 Medical societies and organisations