A clinic open to all health insurance companies
Turó Park Clinics is a private medical center located in the Sarriá-Sant Gervasi district of Barcelona. Our clinic has different agreements with several Spanish and international insurance companies.
There are 2 options for you to be covered by your insurance:
→ Option 1: Is your insurance part of the clinic's affiliated insurance list? In this case, you don't have to pay anything for your visits.
→ Option 2: Is your insurance not part of the clinic's affiliated insurance list? In this case, you will have to pay for your consultation. However, depending on your insurance policy and reimbursement terms, you may be reimbursed up to 80% or even 100% of the cost of your consultation.
Turó Park Clinics Affiliated Insurances
Turó Park Clinics is part of the medical chart of the following insurances. If you are affiliated with these insurances, it means that your consultations will be covered and paid for.
Geoblue
IMG
Eugen
MCI
Akeso Care
Fiatc (ENT specialist only)
Reimbursement insurances
Our clinics accept all types of insurance for reimbursement, both Spanish and foreign.
In Spain, many health insurance companies offer reimbursement options for medical care. If you have subscribed to one of these options, it is possible to be reimbursed up to 80% or even 100% of the costs of the care received. To do this, you simply need to provide your invoice to your insurance company, which will reimburse you according to the current rates.
The main reimbursement insurances available in Spain are
Axa Optima Plus
Cigna Blue & Gold
Mapfre Reembolsos de gastos medicos & Salud elite
Sanitas Blua, +90.00, premium 150.000
DKV Mundisalud & Top Health
Adeslas Plana extra 150
Understanding the Spanish health system
Basically, healthcare in Spain consists of both private and public healthcare.
If you are living and working in Spain, you will likely have access to free state Spanish healthcare that is essentially free except for small co-payments in some products and services.
If not applicable in your case or if you want to cover yourself for private treatment to access wider and quicker treatment, you'll need to take out private health insurance.
Types of Private Insurance Plans
There are several types of health insurance in Spain. Most of them have a network of doctors and specialists that you can visit free of charge. If you prefer to go to your own doctor, you'll need to get a premium policy.
Basic Insurance Plan 

You have to choose from a list of doctors approved by your insurer (cuadro medico)
It covers basic services (visit with doctor, health check, medical analysis)
Hospitalization costs are usually not covered
This basic insurance can be a good option to avoid long waiting lists in the public system but it's limited.
Reimbursement Insurance Plan

You can choose your own doctor, center or hospital without any limitation
Up to 100% of the cost of the visit reimbursed by the insurance plan
You must pay the entire cost of the doctor's visit at the time of service and then submit paperwork in order to be reimbursed (80-100% of the cost of the visit) at a later date (usually after 5-15 days).
This kind of policy is approximately 20-30€/ month more expensive than basic private insurance plans.
If you have additional dental insurance added to your reimbursement policy, you can have between 30-100% reimbursed depending on your insurance company and dental procedure.
Here is a summary table presenting the characteristics of these two types of health insurance:
| Type | Basic | Reimbursement |
| --- | --- | --- |
| What is the typical monthly COST? | From 38€ | From 50€ |
| Can I see any doctor I want? | Choose from limited list of doctors | Free to choose any doctor |
| Is everything included in my monthly fee? | No, you pay extras for visits | You pay doctor's fees and submit your invoice for 80 – 100% reimbursement with your insurer. |
| Examples of insurance companies | DKV, AXA, Adeslas, Sanitas, Mapfre, Cigna | DKV, AXA, Adeslas, Sanitas, Mapfre, Cigna |
| Examples of insurance policies | Adeslas Basica, Adeslas Plena, Adeslas Vital, Sanitas Mas Salud, DKV Integral, DKV Modular, DKV Seleccion, Cigna Salud Plena | Adeslas Plena Extra 150, Sanitas Plena 90.000, DKV Mundi Salud, DKV Residentes, DKV Top Health, Allianz, Cigna Salud Reembolso Blue, Cigna Salud Reembolso Gold (incl USA) |
| What about Turo Park Medical Center's MEDICAL services? | Medical Analysis, ORL | Medical Analyses, ORL, Pediatrician, General Medical Doctor, Gynecologist, Cardiologist, Infectious Disease, Psychologist |
| Are Turo Park Medical Center's DENTAL services covered by my insurance if I have dental insurance? | No | If you have EXTRA dental insurance in ADDITION to your general health insurance, some companies may reimburse 30-100% of CERTAIN dental treatments |
| What is the cost of extra dental insurance coverage? | Approx. 9€/ month* But can only go to your insurer's dental center | - |
How to choose the best health insurance in Spain?
In Spain, there are private health insurance policies adapted to all needs and budgets. However, if you want to see a multilingual doctor or need complementary therapies like acupuncture or homeopathy, you'll need a premium policy.
Turo Park Medical and Dental Center works with the major insurance companies offering private reimbursement policies such as: Axa Optima Plus, Asisa Integral, Allianz Salud Reemboolso, Generali, Fiatc, Cigna Global, DKV Mundisalud, Sanitas Mas, Sanitas Premium, Mapfre Salud Reembolso, Plus Ultra Seguros, RACC Seguros Elección, Bupa Company Gold, Geoblue, Adeslas Pymes Reembolso, Adeslas Extra, Aegon Salud Reembolso, Asefa Salud Top,Agrupació Mutua Universalmedic, and much more.
To help you choose the insurance plan best suited to your needs, we provide you with an analysis of the best providers on the market. You can download it by clicking here.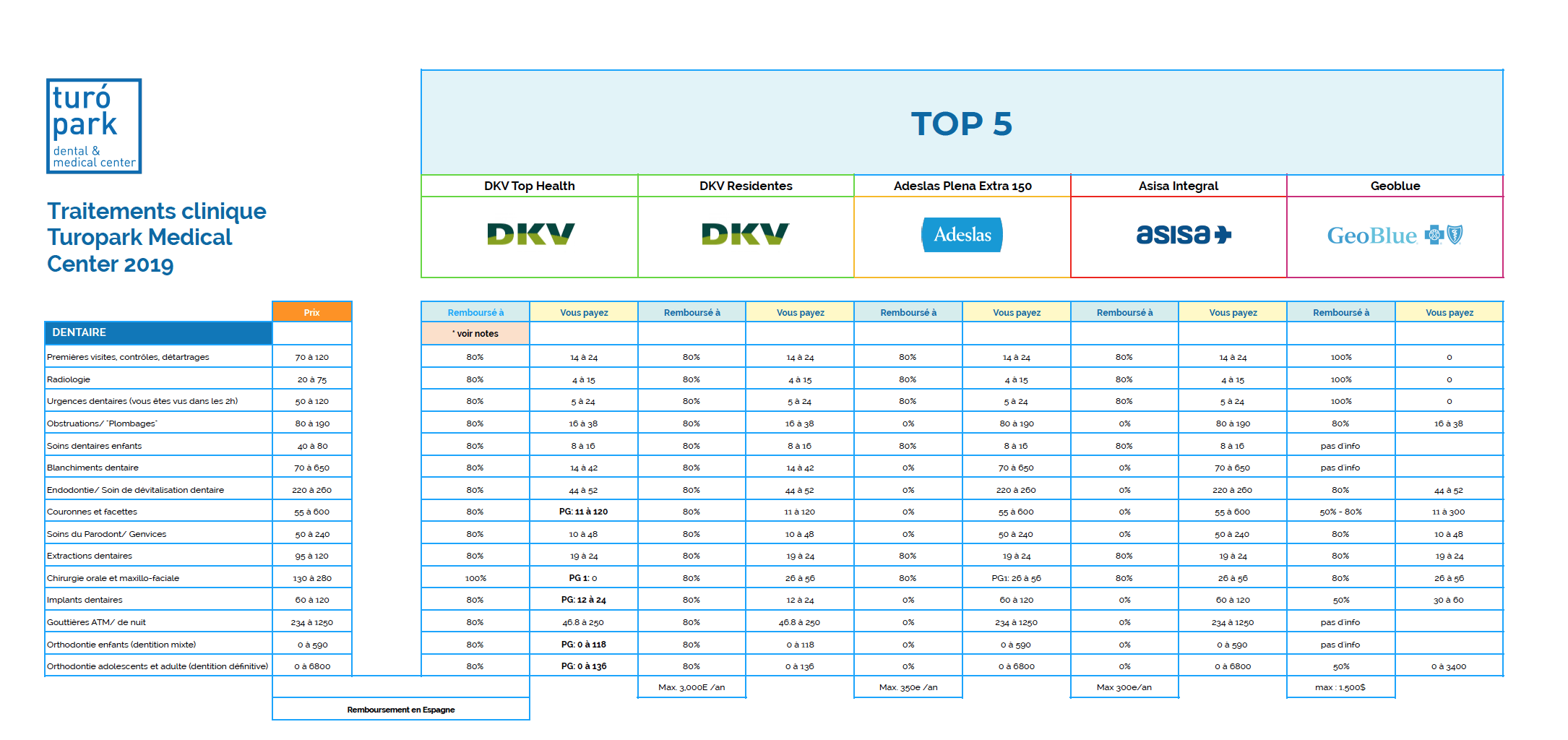 Do not hesitate to contact us by email or by phone (+34 932 529 729), if you need more information about reimbursment and health insurance plans. Our English-speaking office staff will be happy to answer any of your questions.
You need a doctor?
Meet our doctors or contact us to get a quick appointment!