Physiotherapists specialised in providing first-line solutions and treatments for pelvic floor dysfunctions in Barcelona.
Written in collaboration with Dr. Elena Furió
Pelvic floor dysfunctions are common and uncomfortable, but can be treated with a physiotherapist. Physiotherapy has a therapeutic and preventive role in the treatment of pelvic floor dysfunctions, such as incontinence, chronic pelvic pain and sexual dysfunctions. 
Physiotherapy also strategically accompanies women during pregnancy, childbirth and postpartum recovery, aiming to improve the quality of life of patients.
At the Turó Park Medical Clinic, our team of physiotherapists welcome you to our international clinic to treat the range of different pelvic floor disorders.
Do not hesitate to make an appointment now with our physiotherapist.
Feel free to contact us for more information about private insurance reimbursement.
What is the pelvic floor?
The pelvic floor is the set of muscles located in the lower abdomen and pelvis that are responsible for continence and support of the pelvic organs, as well as stabilising the lower back and posture.
These muscles act as the support structure keeping everything in place within your body, including your bladder, uterus and vagina (women) or prostate (men) and the rectum. 
Without the presence of this dysfunction, a patient will have no problem regarding continence because your body tightens and relaxes its pelvic floor muscles accordingly.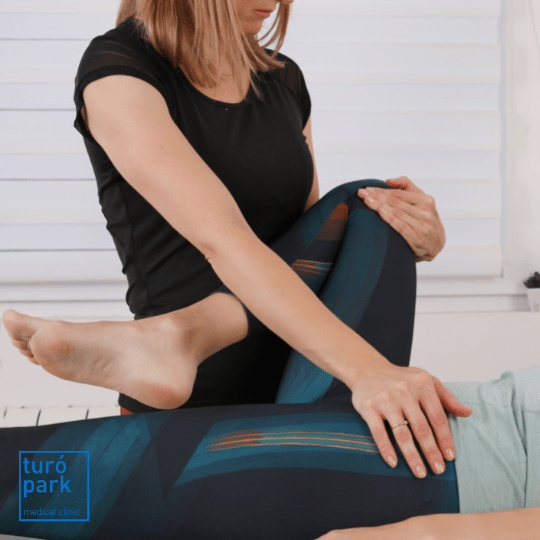 What are the principal symptoms of a pelvic floor dysfunction?
Pelvic floor dysfunctions are common and characterised by the inability to correctly relax and coordinate your pelvic floor muscles to urinate or have a bowel movement. 
Symptoms include:
Constipation, 

Straining to defecate, 

Having urine or stool leakage 

Experiencing a frequent need to pee

Pain during sex for women
Amongst the initial treatments is pelvic floor physical therapy, carried out by physiotherapists to slowly regain control over your muscles.
Pelvic floor dysfunctions treated by physiotherapy
Some of the pelvic floor dysfunctions that can be helped by physiotherapy in women and in men are:
Urinary incontinence, faecal incontinence or gas incontinence

Urinary urgency, hyperactive bladder

Organ descent (prolapse of the uterus, bladder or rectum)

Pelvic pain, acute or chronic back pain

Constipation

Dysmenorrhoea

Coxigodynia

Abdominal diastasis

Sexual dysfunctions (painful sexual intercourse - dyspareunia, vaginismus, erectile dysfunction)

Prostate disorders and treatments

Alterations and treatments of the prostate gland
In pregnant women, physiotherapy can be used during pregnancy and in the pre- and postpartum period for the treatment of caesarean or episiotomy scars, hyperactive bladders and many other common changes that occur during and after pregnancy.
In children, physiotherapy treats fecal inconpressions, enuresis, overactive bladder and uncoordinated urination syndrome.
Find solutions to your pelvic floor dysfunctions in physiotherapy: what happens in a consultation?
To find out if a pelvic floor physiotherapy treatment is recommendable, the health professional will conduct an interview with the patient, a physical examination and a functional assessment of the pelvic floor.
After the assessment, the physiotherapist establishes treatment objectives and selects pelviperineal re-education techniques adapted to each case in order to personalise the treatment and achieve maximum benefits.
In this, the therapist will determine which muscles in your lower back, pelvis and pelvic floor are really tight and teach you exercises to stretch these muscles so their coordination can be improved.
Non-surgical physiotherapy techniques are used, such as:
Manual therapy, myofascial therapy

Therapeutic exercise

Teaching of exercises to facilitate dilatation and postures for expulsion

Muscle training

Manual lymphatic drainage

Perineal massage

Behavioural training of voiding routines § Electro-stimulation

Electrostimulation

Pain relief currents (TENS)
We offer pelvic floor physiotherapy treatments focused on health, adapted to the needs of each person. Our main objective is your improvement and well-being.
Our English-speaking physiotherapists: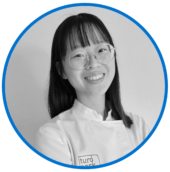 Elena Furió
Physiotherapist 🇫🇷 🇬🇧 🇪🇸
English - Spanish - French - Catalan
Physiotherapy in neurology
See profile
Improve your wellbeing with our physiotherapists
Our English-speaking physiotherapy service at Turo Park Clinics makes sure that you receive expert, convenient, and friendly health care in your own language.
If you are pregnant and want to fully prepare yourself with preventative measures, our physiotherapist would be happy to meet with you before your child's birth to create personalised exercises.
Please contact us by email or by phone (+34 932 529 729), if you would like to learn more about the many health care services we provide. Our English-speaking staff are ready to help you!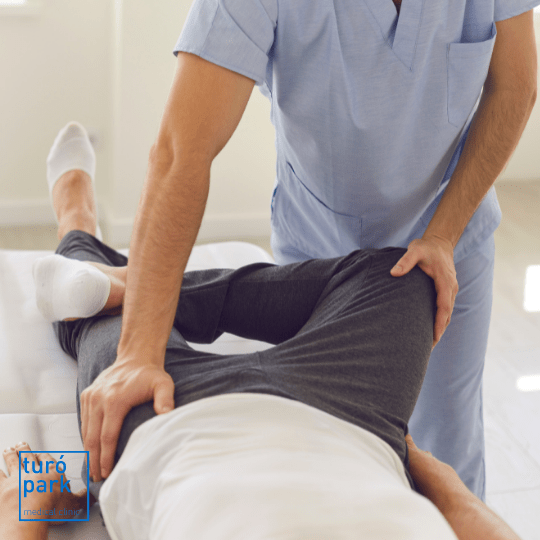 Services Turó Park Medical Clinic