Are you looking for a gynecologist to support your menopause?
Are you suddenly having hot flashes? Do you have trouble sleeping? These signs can indicate the onset of menopause, which affects all women around the age of 50.
It is a fact. This natural phenomenon can be badly experienced both physically and psychologically. The gynecologists at our clinic located in the center of Barcelona support you to relieve symptoms and limit the risk of diseases caused by this new cycle of life.
Do not hesitate to contact us to know more about your insurance policy.
Symptoms of menopause
This period is defined as a physiological phenomenon corresponding to the interruption of ovarian function, and therefore, the cessation of periods. Multiple physical, physiological and psychological symptoms herald the onset of menopause.
Menopause does not come on suddenly. It sets in gradually after a period called "perimenopause". This phase corresponds to the weakening of a woman's fertilizable eggs. The hormonal balance is affected, and the constant variation prevails in the levels of estrogen and progesterone.
Observing a duration between two and four years, this phenomenon is characterized by the following signs:
Irregular periods
Irritability
Tension at chest height
Nighttime hot flashes
Remember that this period does not, in any way, mean the impossibility of getting pregnant. Of course, the chances decrease, but only the confirmation of the menopause initiates the end of the contraception.
The upheavals caused by menopause are numerous. If they do not systematically affect all women, they can handicap their daily lives for several years.
These ailments are manifested by various and varied transformations:
Thinning and dryness of the skin
Weakening of tissues and bones
Painful joints
Weight gain
Signs of depression and bad mood
The symptoms of menopause are also characterized by disorders defined as climacteric:
Hot flashes (chills, dizziness, faintness, profuse sweating, etc.)
Night sweats
Urinary leaks
Headache
Inability to sleep
Tiredness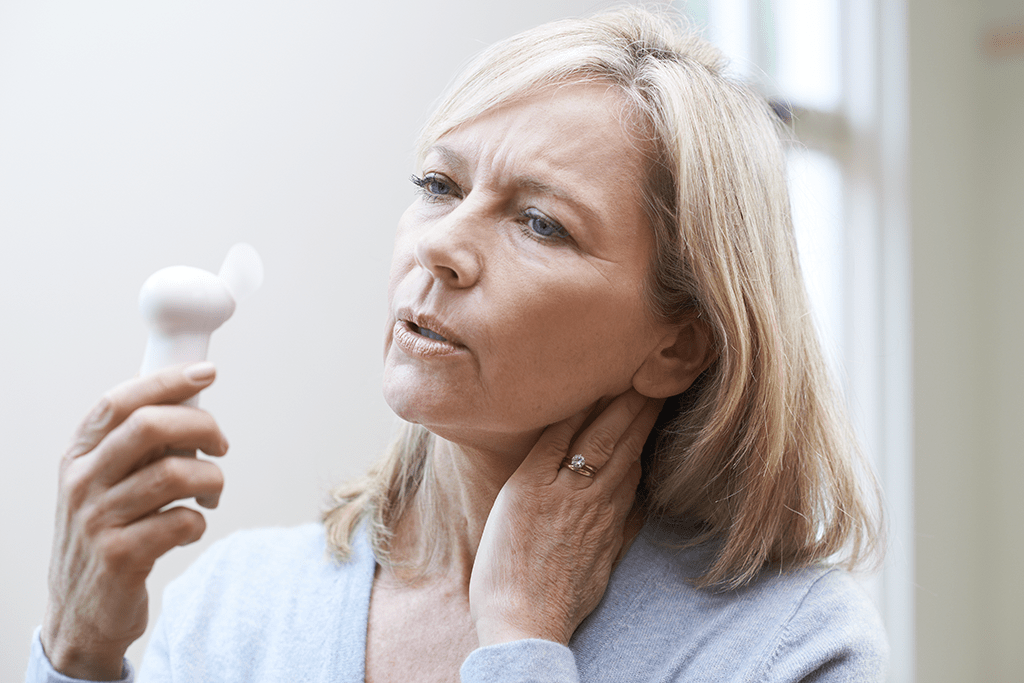 How to treat menopause?
If you suffer from one or more of the symptoms mentioned above, do not hesitate to book an appointment with the gynecology department at Turó Park Medical Center. Our professionals will present a wide range of therapeutic techniques for you to accompany you in the best possible way in this new cycle of life.
The primary purpose of the first visit is to listen to you and diagnose menopause, characterized by the absence of periods for 12 months in a row. If there is no proper exam, our gynecologists can order a progesterone test. This involves ingesting this hormone for 3 months in a row. The result is radical, because if the absence of periods persists, then menopause is reconfirmed.
What methods can relieve menopause?
Studies and advances have changed the treatments associated with the management of menopause. No more prescription of replacement hormones giving rise to vascular and carcinogenic risks.
Like many medical centers, the gynecologists at Turó Park Center are now turning to more natural recipes to alleviate the symptoms of menopause. There is no cure for menopause, but many formulas and advice are more useful to overcome this period.
Food
Healthy eating has been emphasized by doctors from an early age. During the menopause period, a nutritious diet rich in antioxidants is strongly recommended.
Green vegetables, fresh herbs, seaweed and sprouted seeds
Complete products composed of many nutrients
Seasonal fruits
Proteins that contain amino acid for the maintenance of muscles, bones and hormones
Little mineralized water to consume between meals
Moderate consumption of pastries, coffee and alcohol. Small pleasures are always welcome. These acidifying foods are the allies of choice in the fight against inflammation and osteoporosis.
Natural plant treatments
Our gynecologists do not hesitate to recommend other alternatives such as natural herbal therapies.
Sage, hops, or red clover are found to be beneficial in relieving sleep problems, hot flashes, or dry mucous membranes.
Yam gel reveals many qualities against hormonal aging
Ginger acts as a stimulator when you are dealing with low energy, morale or desire.
Hawthorn appears very interesting to relieve palpitations
Aloe Vera, Rhodiola or lemon balm infusion also reveal many fruitful properties to support this new cycle of women's life.
Food supplements
In the family of natural remedies, food supplements observe unsuspected virtues:
Sea buckthorn oil, rich in Omega 7, fights dryness of the skin
Zinc and Selenium prove to be excellent in hormonal regulation
Magnesium reveals virtues that should not be overlooked when it comes to restoring emotional stability
Our team of English-speaking gynecologists
Services Turó Park Dental & Medical Center