Treat yourself with a teeth whitening at Turó Park Dental and Medical Center
Get the radiance of your smile back in just one session!
No matter how thoroughly you brush your teeth every day or how many times you visit the dentist each year, your teeth are not as white as you would like them to be... It is important to know that the colour of your teeth depends on genetic factors and that even if you follow the basic rules of dental hygiene scrupulously, it is difficult to achieve an immaculate smile. In fact, beyond the original colour of the teeth, our daily behaviour and especially the consumption of certain colouring foods such as coffee, red wine, but also certain spices, and of course tobacco, can yellow the enamel of the teeth over the years.
Fortunately, today there are several methods of tooth whitening that allows you to gain a few shades whiter while respecting your teeth. From teeth whitening at the dentist's office to home whitening kits, the offers are indeed varied, and can be adapted to your desires and needs.
At Turó Park Dental & Medical Center, dentists specialising in cosmetic dentistry carry out dental whitening in the dental chair using the latest technology in the field. In one session, you can gain several shades of white and leave with a shiny smile!
What is teeth whitening?
Tooth whitening refers to all the techniques used to brighten enamel and dentin discoloration using a hydrogen peroxide gel or other whitening products. Today, it is possible to use professional whitening at the dentist's office, but also to use home whitening kits available on the Internet and in some supermarkets. In addition to these techniques, more and more manufacturers also offer whitening toothpaste, pens, or whitening strips, but the effectiveness of these products is yet to be proven.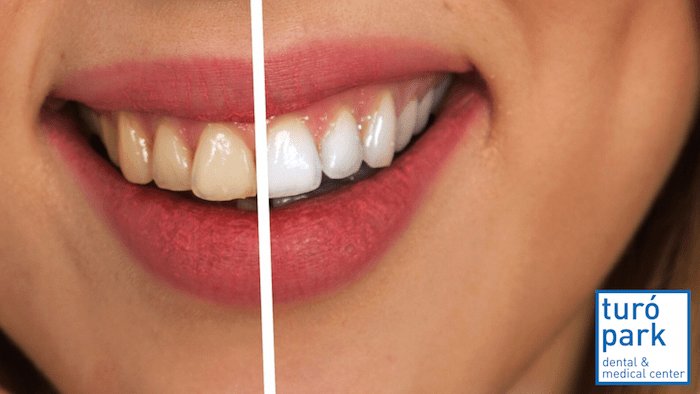 During a professional teeth whitening, the dentist will begin by performing a thorough oral check-up to verify the absence of contraindications to whitening such as uncared-of cavities, devitalized teeth, weak enamel, etc. He will then perform a scaling so that the whitening gel can act homogeneously and then determine your reference color so that you can choose the concentration of the whitening agent. Once the preliminary step is completed, the dentist will protect your gums and all the mucous membranes of your mouth and then apply the whitening product to your teeth. He will then place a UV lamp or laser in front of your mouth for 45 to 60 minutes until the desired shade is achieved. The results of teeth whitening at the dentist are immediate, but it is important to know that it only lasts from one to two years, depending on the patient's dental hygiene. To keep teeth white over the long term, you can repeat the procedure or opt for a permanent solution such as dental veneers.
In addition to chairside teeth whitening, most dentists also offer an outpatient option. This technique consists in using a custom-made tray and a whitening product, but this time the whitening is done by the patient himself, at home. The advantage of outpatient teeth whitening is that you have the support of a professional while having the convenience of being able to perform your treatment at home.
Dental whitening kits are very popular and are often presented as a cheaper and practical alternative to the outpatient whitening offered by the dentist. The kits contain different elements to carry out a whitening at home: a dental tray, a whitening product, a small UV lamp, and sometimes a color chart to follow the evolution of the teeth color. However, it is important to know that the effectiveness of these kits remains limited because the concentration of the whitening product is much lower than at the dentist, and that it is recommended to consult a dentist to carry out a dental treatment of any kind.
Why choose Turó Park Clinic for whitening teeth in Spain?
Although it is nowadays possible to whiten your teeth at home, the intervention of a professional is essential because only the dentist can evaluate the initial shade of your teeth in order to offer you appropriate treatment and, most importantly, the dentist will be able to detect possible contraindications to tooth whitening.
It is also important to know that only dentists are able to use highly concentrated whitening products and that the whitening of the enamel depends directly on the concentration of the product to be used. Our team of professional and highly experienced dentists at Turó Park Clinic Dental and Medical Center assures you a more effective and longer-lasting than whitening at home.
If you are considering a dental whitening treatment in Barcelona, contact our specialized dentists in dental aesthetics to obtain a price quote and plan your whitening treatment.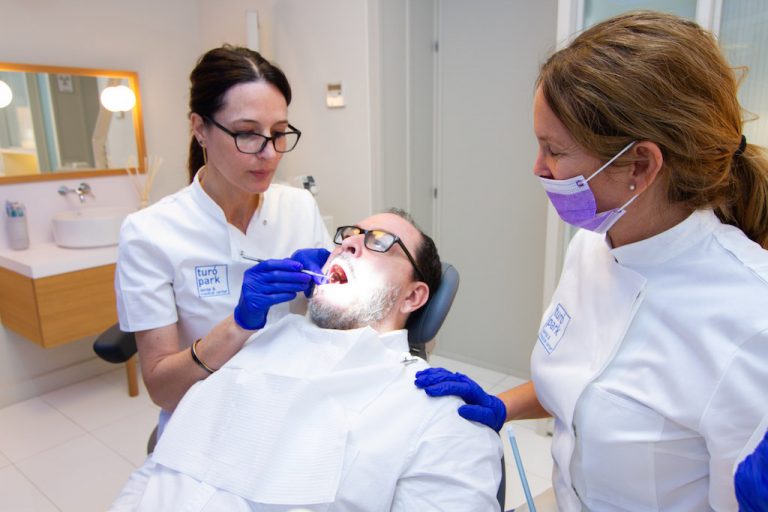 Tips from Turó Park's dentists to keep your teeth white
In addition to good daily dental hygiene (brushing twice a day for at least 2 minutes), it is recommended to have your teeth cleaned at least once a year and to have your gums checked regularly to ensure that they are in good condition.
Our dentists also recommend limiting consuming foods or drinks that stain the teeth, such as tea, coffee, red wine, red fruits, ketchup and to stop smoking!
Do not hesitate to contact us by email (contact@turoparkmedical.com) or by phone (+34 932 529 729), if you need more information. We will be happy to inform you (in English!).