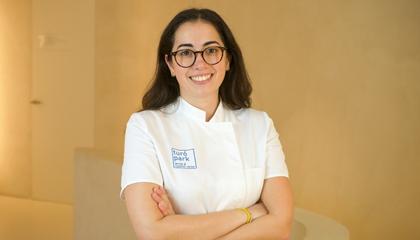 Discover more about me
Dr. Lory Abrahamian is a dentist at Turó Park Clinics. She has over 10 years worth of work experience in Lebanon and Spain. She took residency programs in Oral Medicine and in Temporomandibular Joint Dysfunction, both at the Université Sant Joseph, Lebanon. She then went onto study General Dentistry, before moving to Spain and completing her last master's degree in Periodontology from the Universitat Internacional de Catalunya. Lory is a highly skilled dentist with a very wide scope of experience in the medical field.
Education
Dr. Lory Abrahamian has an impressive academic background. She achieved a Doctor of Dental Surgery from the Université Saint Joseph before proceeding to accomplish a Master's degree in Oral Biology from this same university. Admirably, Lory is further enhancing a depth of knowledge and has received her master's degree in Periodontics from Universitat Internacional de Catalunya. Furthermore she is a European Federation of Periodontolgy (EFP Board) accredited periodontist.
Lory has been a part of several publications regarding periodontology and oral and maxillofacial surgery. Notably, she has also been present and participated at over 10 congresses over the past five years in the Netherlands, Spain and online.
Discover the opinions about our dentist, and leave your own.
Universities and medical societies
Dr. Lory Abrahamian is also a periodontist accredited by the European Federation of Periodontology (EFP Board).
Schedule an appointment with Dr. Lory Abrahamian