A healthy diet for a healthy lifestyle
Chronic illness, over/underweight problems, bad habits... Sometimes, healthy eating cannot be improvised. It is then necessary to consult a nutritionist in order to restore the balance of your diet. At our clinic in Barcelona, English-speaking nutritionists are at your disposal to help you adopt a healthy diet, which is essential to preserve your health.
Your English nutritionist in Barcelona
Need to lose or gain weight? Are you looking for nutritional support to preserve your body from aging? Are you considering changing your diet and don't know how to go about it? You are an athlete and need to adapt your meals in preparation for a competition?
Whatever your specific needs, our English-speaking nutritionists and dieticians in Barcelona can help you adapt your diet thanks to a personalized program that lasts over several months.
Do not hesitate to contact us by email contact@turoparkmedical.com or by phone +34 932 529 729, if you need more information. We will be happy to inform you (in English!).
Do not hesitate to contact us to know more about your insurance policy.
Nutritionist and dietician: what are the differences?
The nutritionist, like the dietician, is specialized in nutrition, but the first is a doctor specialized in healthy eating and the second is a professional in the paramedical sector.
Both have an excellent knowledge of the benefits and harms of food and its effects on the body, and are able to advise you on how best to choose a balanced diet. But the nutritionist goes beyond this, as they can prevent, detect and treat nutrition-related illnesses such as obesity, diabetes, anorexia or food phobias. They propose dietary programs perfectly adapted to the physiological needs of patients according to their condition or disease.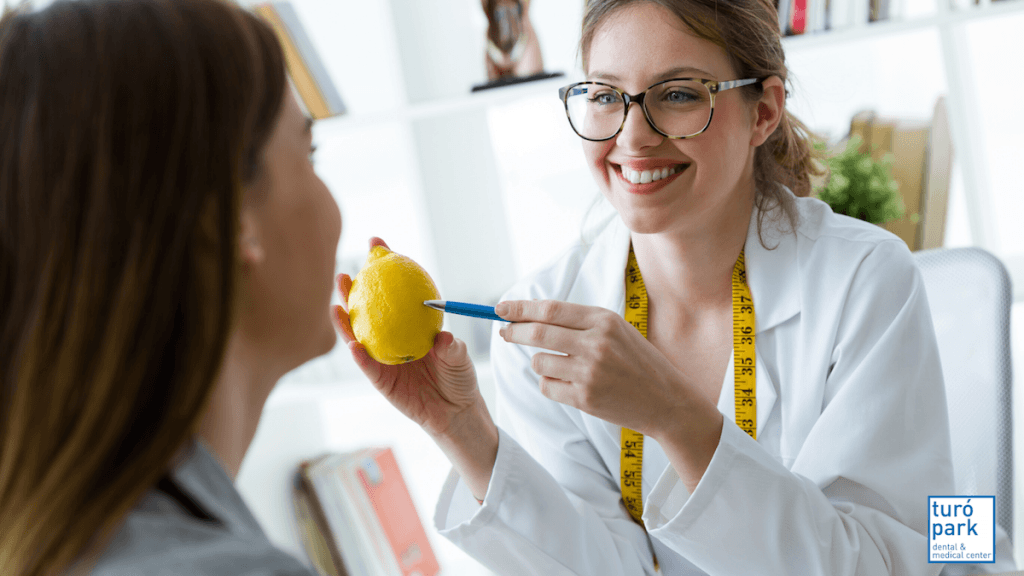 When should I consult a nutritionist in Barcelona?
It is common for the general practitioner to refer patients to a nutritionist, but you can also go there on your own initiative. There are many reasons for consulting a nutritionist at Turó Park Dental & Medical Center in Barcelona. The following is a non-exhaustive list of reasons why it is advisable to make an appointment:
Overweight and obesity problem
Losing weight is not always easy and you have to be wary of miracle solutions. Our nutritionists take the time to learn about your eating history and habits to provide you with a fully personalized program!
As a result of a dysfunction of the pancreas, diabetes manifests itself by an imbalance in blood sugar levels. Your nutritionist's dietary advice will help you stabilize it. It is important for a person with diabetes to have at least one dietary consultation per year.
Pregnancy is a time in a woman's life when it is particularly important to monitor her diet. The nutritionist is there to advise you and help you make the right choice of food that will not only meet your nutritional needs but also those of your baby. He will also guide you if you gain too much or too little weight, if you have too much blood sugar, if you suffer from reflux, if you are intolerant to dairy products...
Intensive practice of a sport
When a person engages in intense and regular physical activity, a specialized diet is required. As a food specialist, the nutritionist proposes a diet adapted to the needs and constraints of an athlete. The nutrition specialist also adapts the menus he proposes during training or competition periods.
A well-balanced diet is essential to fight against fatigue and to give you good energy. The nutritionist will explain which foods to avoid or, on the contrary, which ones to favour in order to get back into shape.
Stomach and intestinal pains are not easy to deal with, especially when the origin of the discomfort is unknown. The nutritionist can help you detect and treat them. Many gastrointestinal disorders (Crohn's disease, celiac disease, constipation, diarrhea, gastric ulcer, etc.) can, in fact, be relieved by an adequate diet specific to each problem.
Eating disorders (anorexia, bulimia, etc.) are complex cases requiring interdisciplinary intervention. The nutritionist works in close collaboration with various stakeholders in order to take into account the psychosocial dimension related to the eating disorder.
Food allergies and intolerances
Food allergies and intolerances can sometimes be a real headache. Whether you have a bovine protein allergy or lactose intolerance, a nutritionist can help you find alternatives to products that contain allergens. They will ensure that your needs for various nutrients are met despite your allergies or intolerances. They will also give you advice on how to understand food labels and not make mistakes in your choices.
Cardiovascular pathologies
A healthy diet can prevent the development of high blood pressure and cardiovascular disease. The nutritionist can, for example, help you regulate your cholesterol levels that cause cardiovascular problems. Prevention is better than cure!
Vegetarianism and Veganism
Our nutritionists and dietitians will accompany you in your transition to vegetarianism or veganism so that you don't lack anything. They can help you discover new food products and new ways of cooking.
Need a nutritionist in Barcelona? Book an appointment at the Turó Park Dental & Medical Center Clinic
At the nutrition department of the Turó Park Clinic in Barcelona, you will find specialists who will help you manage your diet by providing practical information and customized nutritional advice. At your Turó Park clinic, the nutritionists take the time to understand your situation and history to guide you in the best possible way. The exchange is essential to evaluate eating habits and detect possible deficiencies, which is why the fact that the team is composed of English-speaking doctors is very important. Language is no longer a barrier and the treatment can be done in an ideal way.
This is how a personalized nutritional program at the Turó Park Dental & Medical Center Clinic works:
First Free appointment by videoconsultation: During this first appointment, our nutritionist will take the time to understand your needs and your personal situation in order to propose a personalized program that meets your expectations.
Delivery of the personalized program: You will receive your program and action plan by email and will take advantage of consultation to ask your questions and discuss with your nutritionist.
Regular follow-up: you will then benefit from a personalized follow-up for 3 months, with regular consultations.
Review: 6 months after the beginning of your program, you will be able to consult your nutritionist again to ensure that your results are sustainable.
Our team of English-speaking nutritionists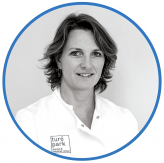 Cathy Morghese
Nutritionist-Dietitian
English - French - Spanish
View Profile
Services Turó Park Dental & Medical Center