Radiology, an essential tool in medicine and dentistry
Radiology is an essential part of dentistry. It offers several options for viewing the outside and inside of your mouth (teeth and roots, bone mass and jaw). It can detect lesions and abnormalities that cannot be detected by your dentist in a regular clinical examination. Among those detected are the presence of cavities between teeth, bone density, cysts, tumours and dental abscesses.
At Turó Park Clinics in Barcelona, access the latest advances in dental radiology
Always up to date with the latest technology, Turó Park Clinics is equipped with cutting edge radiology equipment.
Our clinic is equipped with an Orthophos S 3D cone beam, which uses a cone-shaped radiation beam. Halfway between a dental panorama and a CT scan, this device offers new opportunities for dental examinations. It has the advantage of being more accurate than a dental panoramic and offers the possibility of a digital 3D reconstruction.
Lastly, it does not only allow an entire area to be scanned all at once, but it is also focuses the examination on a specific area of interest. This feature reduces the amount of radiation exposure compared to other instruments that may irradiate a larger area unnecessarily.
Fast track your treatment
To book an appointment or speak with one of our friendly team, please get in touch using the options below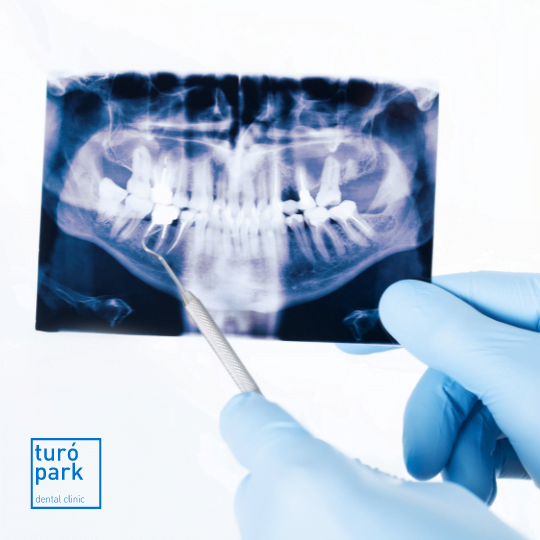 What is radiology?
Radiology refers to all medical imaging techniques that use X-rays and other radiation for diagnostic or therapeutic purposes.
Contrary to what many people think, it is not limited to conventional radiology, i.e. X-rays (or standard radiography). It also covers medical imaging using ultrasound, magnetic resonance imaging (scanner, MRI, etc.) and interventional radiology, which is the set of invasive diagnostic and therapeutic procedures performed by the radiologist.
In dentistry, X-rays allow the visualization of areas inaccessible to the naked eye. It is used both for the general control of your mouth (prevention) and in very specific situations such as a wisdom tooth extraction or a root canal treatment.
What are the different types of dental radiological treatments?
There are several types of X-rays and these are the three most commonly used in dentistry:
This is the basic control X-ray, which provides information on the presence of loosening, carious lesions or fillings that are unfavourable for the patient.
Your health is our priority!
Always at the forefront of innovation, Turó Park Clinics in Barcelona is equipped with the latest radiology equipment.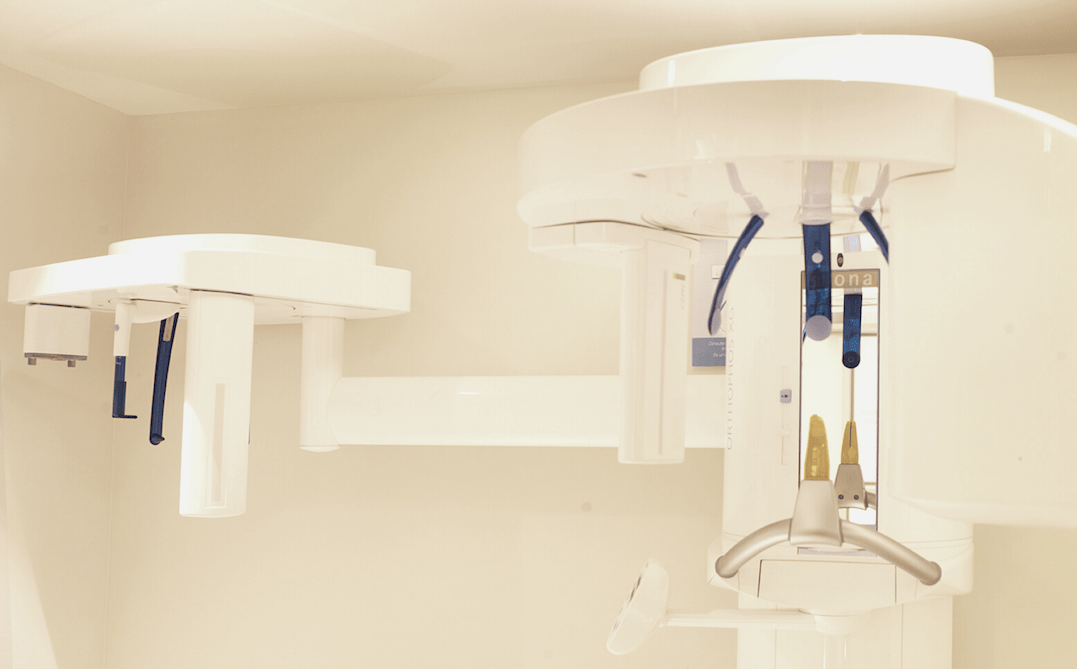 How is a dental X-ray performed?
In most cases, there is no special preparation. You can eat and drink normally before the examination. It is painless and does not require any anaesthetic.
The dentist places a piece of plastic in your mouth and asks you to bite down on it. Usually, several x-rays are taken to identify problems in different parts of the mouth.
A panoramic X-ray, which creates a single image of the entire mouth, is an extra-oral examination, meaning that the imaging device and film are outside the mouth. A panoramic X-ray machine projects a beam through the mouth onto a film or detector, which rotates in the opposite direction to the X-ray tube.
What are the risks during the consultation?
Although it is absolutely painless, the X-ray examination is nonetheless subject to certain precautions. Because of their irradiating nature, X-rays are not without potential health risks.
Nevertheless, the radiation doses received during an X-ray examination are low and do not present a risk in themselves, but it is the repetition of these examinations that is problematic. For this reason, patients who have to undergo many medical imaging examinations are referred to methods that use ultrasound (ultrasound) or magnetic waves (MRI). In addition, women that are pregnant or breastfeeding may be advised to avoid X-rays.
Our English-speaking dentists
Dental societies and organisations
Have a look to the financing options
Don't worry, we take care of everything!