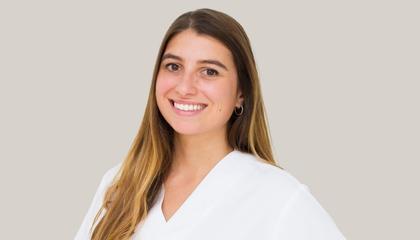 Dr. Berta Furió
Orthodonctics
English - Spanish - Catalan - French
Prosthodontics fixed and removable
Book an appointment
Discover more about me
Dr. Berta Furió specializes in conservative, restorative and cosmetic endodontics for adults and children. Endodontics is the diagnosis and treatment of tooth pain and root canal therapy.
Over the course of her training and career, she has developed a level of specialization in numerous dental procedures. Her areas of expertise include:
Endodontics
Restorative odontology
Treatment of problems of the Temporomandibular Joint
Oral and dental surgery
Periodontics
Fixed and removable prosthodontics (crowns, bridges, and dentures)
Pediatric dentistry
Education
Born in Valencia, Spain, Dr. Berta Furió attended school at La Cité Scolaire Internationale in Lyon, France. She then returned to Barcelona to study at one of the best dentistry universities in Europe, the International University of Catalunya (UIC).
She also remains very active in the fields of teaching and research in her work as a professor at the University Dental Clinic of UIC.  Recently she was a collaborator in a joint project with the dental department of AIDIR (Unidad de Atención de Enfermería, Docencia e Investigación).
Beyond dentistry, she has pursued academic training in negotiation at the Catholic University of Louvain, Belgium; in nutrition and the human microbiome at Wageningen University, Holland; and in coaching and mentoring at UIC.
She speaks English, French, Catalan and Spanish.
Dr. Berta Furió looks forward to caring for you or for your children at Turó Park Dental and Medical Center.
Discover the reviews on this Doctor and leave yours.
Schedule an appointment with Berta Furió