Drug testing
Any drug use leaves traces in the body. Testing consists of finding these traces in a urine sample in a qualitative manner, i.e. by detecting the absence or presence of drugs, but not their quantity.
You can make an appointment and pay for your test online, then go to one of our partner laboratories to take the test. Your results will then be sent directly to you by the laboratory.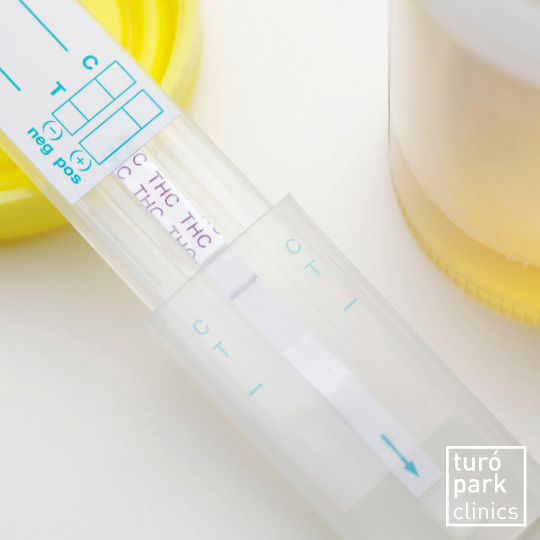 Why take a drug test?
Drug testing is primarily performed to look for evidence of use of one or more substances of abuse on a routine or random basis.
It can be used in professional or social situations where there is a need to prove that no drugs have been used, such as for people who have to participate in a sporting event.
A drug test can also be performed if you simply want to know if any of these substances are present in your body.
When to take a drug test?
The amount of drug residue in the body changes over time. A drug test is a snapshot, at one point in time, of what is in the sample, so the timing of the test is crucial. If the test is done too soon, the traces may not yet be visible. If the test is performed too long after consumption, the traces may have already disappeared.
The times of positivity given below are only guidelines. There is no way to know exactly how long a drug will remain positive because many factors can affect it.
Drugs
Time
Cannabis
- occasional use : 3 to 5 days
- regular use : 30 to 70 days
Amphetamine
up to 4 days
Methamphetamine
up to 7 days
Cocaine and Crack
- occasional use : 2 to 4 days
- intensive and daily use for several months: 10 to 14 days
Ecstasy (MDMA)
up to 72 hours
Heroin, Rachaca
48 to 72 hours
Methadone
3 to 7 hours
LSD
1 to 2 hours
GHB and GBL
few hours (less than 12h)
→ Book the drug test best suited to your needs
What drugs can be detected by a urinalysis?
The groups of drugs or substances that can be detected by a urine test are:
Amphetamines
Tricyclic antidepressants (Clomipramine, Imipramine, Amitriptyline, Nortriptyline, Protriptyline...)
Barbiturates
Benzodiazepines
Cannabis
Cocaine
MDMA/ectasy
Phencyclidine (PCP)
Methadone (MTD)
Methamphetamine (MAMP)
Morphine
Opiates (morphine, heroin, codeine...)
How do drug tests work?
The sample is collected in a 50 ml. urine container facilitated by the laboratory.
A chemical reagent is then used to verify the presence or absence of the drug in the tested sample. The reagent is calibrated to react at a certain threshold of drug presence. If this threshold is exceeded, the result is "positive". If it is not, the result is "negative".