Do you have blood vessels on your face and are looking for a solution to eliminate them?
Although most of the time they are benign, the small blood vessels that appear on the face are unsightly and can even be a source of concern. If so, it is possible to remove them with a laser treatment, which is particularly effective, as well as painless and long-lasting.
At Turó Park Clinics we have Nordlys™ equipment, which allows us to treat 21 different conditions, including blood vessels or telangiectasis, with both laser and intense pulsed light.
To learn more about the treatment possibilities for your vascular lesions, do not hesitate to make an appointment now with one of our specialists in aesthetic laser medicine.
Treatment info
Information on the laser/IPl treatment of facial vascular lesion

| | |
| --- | --- |
| Duration of the treatment | 30 min |
| Recovery | 2-3 weeks |
| Results | Long-lasting |
| Effects | After a few days |
| Anestesia | Possibly EMLA cream |
| Price | From €200 |
Speed up your treatment!
To make an appointment or speak with one of our team members, please contact us using the options below.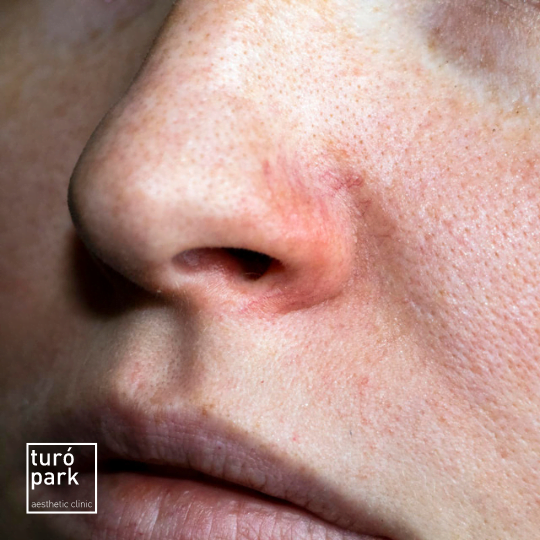 What are telangiectasias or vascular lesions of the face?
Telangiectasia is a skin condition characterized by the permanent dilation of small blood vessels, which often form a star on the skin. They may be composed of abnormal aggregates of arterioles, capillaries or venules. Their color varies from red to purple.
These vascular lesions appear mainly on areas of the skin exposed to sunlight:
on the cheekbones,
the faces or wings of the nose,
the lower eyelids,
the forehead,
the chin.
However, they can appear anywhere on the body.
Telangiectasias are not supposed to cause any particular pain, but they are sometimes accompanied by a stinging or itching sensation, especially around the eyes.
What causes facial vascular lesions?
Spider veins on the face are usually a sign of chronic venous insufficiency. They are very often of genetic origin, but other factors such as the sun, intense cold, alcohol and pollution stimulate and intensify their appearance.
Age also seems to be a determining factor, since after the age of 60, almost 80% of people have telangiectasias.
In addition, women are twice as affected as men. Vascular lesions are thought to be related to estrogenic impregnation and its vasodilator effect.
Eliminate spider veins!
The aesthetic medicine specialists at Turó Park Clinics offer you a first consultation to learn about the options that best suit your needs and expectations.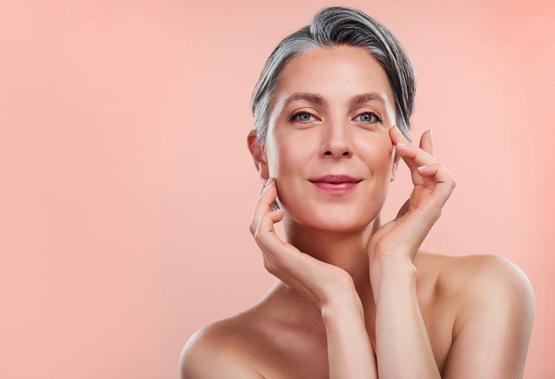 How does laser and pulsed light treatment work to remove facial vessels?
It is important to know that facial spider veins are permanent. Once they appear, they do not go away on their own. Laser and intense pulsed light (IPL) treatment, especially with the Nordlys™ device, is currently the best solution to get rid of these unsightly redness.
The treatment of vascular lesions depends on the lesions, their depth and intensity, but also on the affected area. The objective of this treatment is to cause the selective destruction of the blood vessels that have increased in size and number.
Each session lasts approximately 10 to 20 minutes. At the beginning of the session, you will be fitted with protective goggles or eye shields.
Next, the physician treats the affected area with the handpiece of our IPL or vascular laser. At the end of the session, a healing or soothing cream is applied to the skin.
Several sessions are usually necessary to obtain a satisfactory result. Each session is spaced 4 weeks apart.
Are there any side effects to laser treatment of blood vessels?
The laser produces a very brief tingling and warm sensation, accompanied by a brief pinprick. However, most patients tolerate the procedure well.
After treatment, a repair cream and sunscreen should be applied until the skin returns to normal, and sun exposure should be avoided for one month. Therefore, it is recommended to perform this type of treatment in winter or late autumn.
Our tips to avoid unsightly red veins on the face:
To limit the appearance of spider veins on the face, certain habits should be adopted:
Avoid prolonged exposure to the sun.
Avoid extreme temperatures and sudden changes in temperature.
Avoid heat sources such as saunas, steam rooms or hot baths.
Maintain good facial hygiene and moisturize your skin as much as possible.
Avoid alcohol consumption, especially red wine.
Avoid scratching your face.
Avoid acne-causing foods.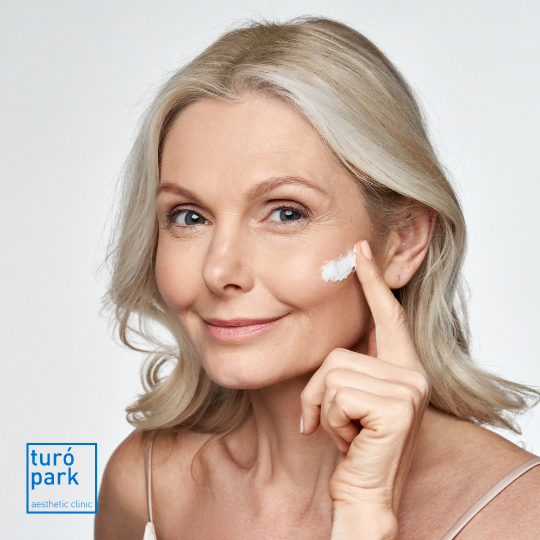 Our laser and pulsed light doctors