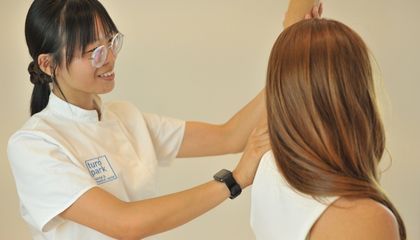 Elena Furió
Physiotherapist
Spanish - English - Catalan - French
Physiotherapy for pelvic floor dysfunctions
Sport and injury rehabilitation
Book your appointment now
Discover more about me
Elena has conducted focused research, such as a study of the effectiveness of virtual reality in improving the upper limb motor functionality of stroke patients. Having attended a range of congresses, her interests lay in physiotherapy in neurology, as well as aesthetic, trauma, invasive and TMJ physiotherapy. She specialises in dry needling, which is a very effective treatment derived from acupuncture which focuses on muscular trigger points. She offers her expertise in lymphatic drainage which involves gently manipulating specific areas of your body to reduce swelling and unblock your lymphatic system.
Education
Elena Furió Alonso is graduate of physiotherapy from the International University of Catalunya (UIC), she has practiced at L'Hospitalet de Llobregat, IDB Domicilios and Physiodex, having already practiced in curricular in a range of institutes.
She is a proactive, organised and responsible specialist that puts her patient's wellbeing first. She also carries this empathetic trait outside of work, where she is a keen volunteer that lends her time to the wellbeing of others.
Languages: she speaks Spanish, Catalan, French and English fluently, with a basic understanding of German.
Discover the opinions about our doctor and leave your own.
Schedule an appointment with Elena Furió
Session pack with Elena Furió