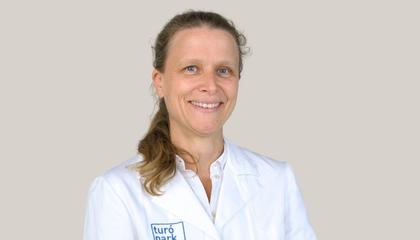 Dr. Marie Borgne-Renié
General Practitioner
English - Spanish - French
Intrauterine Techniques (IUD)
Sexual and Reproductive Healthcare
Book your appointment
Discover more about me
Dr. Marie Borgne-Renié is an English-speaking general practitioner in Barcelona that can offer you diagnosis and treatment of all common medical conditions with a holistic approach.

At Turó Park Clinics, Dr. Marie Renié works with a focus on the wellbeing of the patient, notably specialised in sexual and reproductive health and drug misuse.  
Dr. Renié has many years of experience, forming part of the NHS workforce in the UK, notably providing primary care services to a diverse population. 
As a native French-speaker, she also worked as a GP in Paris, France, focusing on the baby clinic, medical examination for all children, and advising on special needs in day care. 
After which she went on to offer her high-quality services at The Expat Medical Centre and Central Doctors in Amsterdam in the Netherlands. Therefore, she has extensive experience with a multicultural international population of patients, including refugees.
Education
Dr. Renié graduated in General Medicine at Rouen University in France with certificates in Clinical and Therapeutic Synthesis and in the Management of Drug Misuse from the Faculty of Medicine in Tours, France. Moreover, she has a diploma in Sexual and Reproductive Healthcare after which she subsequently worked for several years as a family doctor in central London, both in a travel clinic and a digital surgery.
Marie speaks English, French and Spanish.
Discover the opinions about our doctor, and leave your own.
Schedule an appointment with Dr. Marie Borgne-Renié
Dr. Borgne-Renié's packages