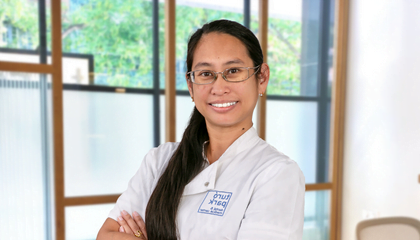 Discover more about me
Dr. Anna Pedro is an English-speaking General Practitioner (GP) specializing in the treatment of respiratory diseases such as asthma. Our GP's treat all common medical conditions with a holistic approach:  They know that your health is determined by physical, psychological, and social conditions.
Our GPs and medical center will also coordinate any referrals to Barcelona's top specialists if needed, setting up your appointments and coordinating your care, without you having to wait to get the care you need.
Education
Dr. Anna Pedro graduated from the Universidad Autónoma de Barcelona and completed her 4-year GP training in Family and Community Medicine at the renowned Hospital Universitario del Valle de Hebrón and in Primary Care at CAP La PAU.  During her residency, she performed an external rotation at Baylor College of Medicine in Houston, USA and participated in the Family Doctor Fellow Internship.
For her graduate thesis work, Dr. Anna Pedro studied Occupational Asthma in Barcelona. She is a regular speaker, participant, and moderator at international congresses. In recent years, she has also collaborated in several national studies related to cardiovascular and respiratory diseases.
Discover the reviews on this Doctor and leave yours.
Schedule an appointment with Dr. Anna Pedro