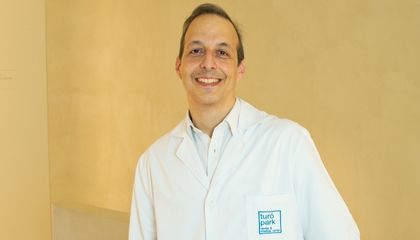 Dr. Santiago Abad
Pulmonologist
Management of asthma, COPD, respiratory infections, etc.
Respiratory sleep disorders (snoring, obstructive apnea)
Respiratory functional tests
Respiratory polygraphy and CPAP therapy titration
Book an Appointment
Discover more about me
Dr. Santiago Abad is a pulmonology specialist at Turó Park Clinics. With more than 17 years of experience in his area, he is specialized in respiratory sleep disorders, respiratory function tests, pulmonary ultrasound and fibrobronchoscopy.
His goal is to resolve and empathetically manage the care of patients with acute and chronic respiratory problems, asthma, COPD, smoking, pneumonia, as well as snoring and obstructive sleep apnea.
Education
Graduated in Medicine from the University of Buenos Aires, homologated with the Degree in Medicine of the Kingdom of Spain and registered with the General Medical Council of the United Kingdom. He was a resident doctor in Pulmonology at the Hospital Muñiz in Buenos Aires and completed a postgraduate degree as a medical specialist at the University of Buenos Aires. Subsequently he completed a diploma in Sleep Medicine.
In this field he has completed numerous training courses such as Pulmonary Ultrasound, Non Invasive Mechanical Ventilation, and certification in Diagnostic Bronchoscopy, among others. In addition, he has participated in congresses, publications, courses and seminars oriented to respiratory diseases, both nationally and internationally.
Discover the opinions about our pulmonologist and leave your own.
Universities and medical societies
Dr. Santiago Abad is an active member of the Argentine Association of Respiratory Medicine (AAMR), in addition to having carried out intense teaching and academic activity aimed at medical students and medical specialists in training.
Book an appointment with Dr. Santiago Abad