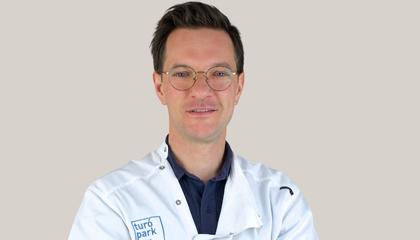 Dr. Rob van der Veen
Ophthalmologist - Oculoplastic surgeon
English - Spanish - Catalan - Dutch
Complex reconstructive procedures
Minimally invasive blepharoplasty
Eyelid malpositions, tumors, tearing eyes and orbital pathology treatment
Book an appointment
Discover more about me
Dr. van der Veen is an English-speaking Aesthetic and Reconstructive Eyelid and Facial Surgeon, specializing in aesthetic and reconstructive surgery of the eyelids and peri-ocular region, from minimally invasive blepharoplasty to complex reconstructive procedures.
Dr. Rob van der Veen speaks English, Spanish, Catalan, Dutch.
Education
He trained as an ophthalmologist at Maastricht University Medical Center in the Netherlands, where he also obtained his PhD degree. He was then selected for a full clinical fellowship at the renowned Amsterdam Orbital Center after which he worked as an oculoplastic and orbital surgeon at the University Hospital Utrecht. Moreover, he has work experience in England, Germany, Aruba and Australia.
Currently, he performs reconstructive eyelid and midface surgery at Hospital Moisès Broggi in Barcelona, treating eyelid malpositions, tumors, tearing eyes and orbital pathologies such as bulging eyes in thyroid eye disease, and all interventions needed for with people with an artificial eye.
Discover the opinions about our doctor and leave your own.
Universities and medical societies
Dr. van der Veen stays involved in research, regularly presenting at international congresses and publishing scientific articles. He is an active member of the most relevant ophthalmological societies in his field: the Dutch Ophthalmological Society (NOG), Dutch Orbital Society, Spanish Oculoplastic and Orbital Society (SECPOO) and the European Society of Ophthalmic Plastic and Reconstructive Surgery (ESOPRS).
Schedule an appointment with Dr. Rob van der Veen