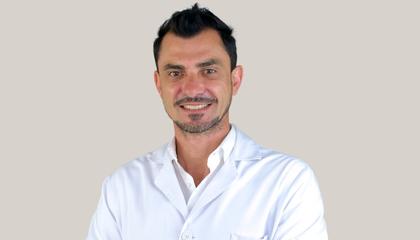 Dr. Martin Gaston Alvarez
Medical Aesthetics
Fillers or facial dermal fillers
Facial and skin rejuvenation
Lipofilling (corporal and facial)
Mesotherapy and collagen-based facial hydration
Book your appointment
Discover more about me
Our Medical Aesthetics provides treatments that are with or without surgery, being an expert in minimally invasive procedures, to provide the best aesthetic results, in a warm, comfortable and international environment. Look and feel your best!
At Turó Park Aesthetic Clinic, Dr. Martin Gaston Alvarez works in our aesthetic medicine team to provide our international patients with the best services, with a focus on their overall wellbeing.
Dr. Alvarez is specialized in a range of cosmetic procedures, including: fillers or facial dermal fillers for the various facial zones, treatment of expression wrinkles, facial and skin rejuvenation with autologous regenerative treatments, lipofilling for face and buttocks, mesotherapy, rhynomodelling and lip augmentation with fillers.
Languages: he speaks Spanish and English.
Education
Dr. Martin Gaston Alvarez studied at the Pontificia Universidad Católica Santa María in Buenos Aires Argentina in Plastic and Reconstructive Surgery, receiving a homologation at the Ministry of Health in Madrid. He then went on to achieve a Master's Degree in Aesthetic and Anti-Aging Medicine at the University of Barcelona. Alongside postgraduate specialities of both Cosmetic and Aesthetic Medicine and Physiological Aging Medicine.
Due to the fact that he studied and trained in Argentina and the USA, he has been officially approved by the Spanish Ministry of Health for the European Economic Community (EU). He provides treatments that are without surgery, being an expert in minimally invasive procedures.
Discover the reviews on this Doctor and leave yours.
Universities and medical societies
Dr. Martin Gaston Alvarez is a very active member in his field, being the academic representative for the Chair of Plastic and Reconstructive Surgery (UCA). He is also member of the following associations: the Medical Association of Argentina (AMA), Society of Plastic Surgery of La Plata (SCPLP), Argentinian Society of Plastic Surgery (SACPER), Ibero-Latin American Federation of Plastic Surgery (FILACP), and the Spanish Society of Aesthetic Medicine (SEME). He has attended a variety of courses including, Primary Rhinoplasty Course, Theoretical and practical course on "Plastic Surgery in Ulcers and Pressure Sores", Somatic Nerve Plexuses, Angiographic Vascular Anatomy, Surgical Anatomy of the Abdominal Walls, and on Botulinum Toxin in the upper third of the face and the proper use of Thermoradiofrequency, organised by the National University of La Plata amongst others.
Schedule an appointment with Dr. Martin Gaston Alvarez