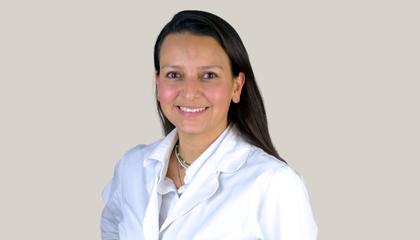 Dr Daniela Fajardo
Capillary surgeon
Spanish - Catalan - English
Hair loss & alopecia treatment
Make an appointment now
Discover more about me
Dr. Daniela Fajardo is an English-speaking physician at Turó Park Clinics. She specializes in trichology and capillary surgery, in which she offers treatments to combat hair loss and alopecia like PRP among others.
Dr. Daniela Fajardo has participated in an impressive range of courses, workshops, and seminars with a recent focus on trichology and capillary surgery. She completed training in Madrid with some of the most renowned hair surgeons and dermatologists in the country.
Education
Dr. Fajardo obtained her medical degree at Venezuela's Central University and first dedicated her practice as a doctor to emergencies. She has experience working as an emergency practitioner and a surgeon assistant in ENT. The experience and eagerness of Dr. Daniela Fajardo allow her to treat her patients in a well-informed, professional, and up-to-date manner.
Languages: she speaks Spanish, English and Catalan.
Schedule an appointment with Dr Daniela Fajardo