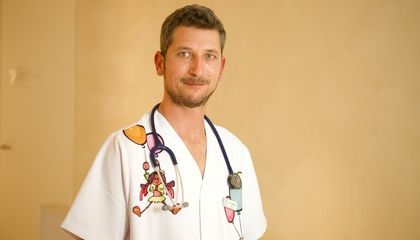 Dr. Ignacio Guimerá
Pediatrician
Spanish - English - Catalan
Pediatric illnesses and emergencies
Book your appointment
Discover more about me
Are you looking for an English-speaking pediatrician in Barcelona? Dr. Ignacio Guimerá provides first-class pediatric care for children of all ages at Turó Park Medical Clinic, in the heart of Barcelona.
At Turó Park Medical Clinic, Dr. Ignacio Guimerá works in our pediatric medical health team to support our patients of all ages throughout childhood, from newborns to early adulthood, with a holistic approach.
Education
Ignacio holds a degree in General Medicine from the University of Valladolid and a specialized degree in Pediatrics from the Autonomous University of Barcelona. 
Amongst his training and participation in his specific field of study, he has training in pediatric emergencies and hospitalization, health checks of newborns, infectious diseases, pediatric endocrinology, the administration of vaccines and the management of asthma, fever and neutropenia, amongst others.
Discover the opinions about our pediatrician, and leave your own.
Universities and medical societies
An active member of his medical field, Dr. Ignacio Guimerá is a member of the following societies: Official College of Doctors of Barcelona. Catalan Society of Pediatrics. Spanish Society of Pediatrics. Society of Pediatric Emergencies.
Schedule an appointment with Dr. Ignacio Guimerá