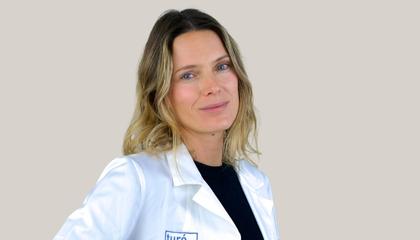 Dr. Elvira Herrería
Psychiatrist
Treatment of mild and severe mental illnesses
Depression, anxiety, bipolar disorder
Book an appointment !
Discover more about me
If you are looking for an English-speaking psychiatrist to support you, then come to Turó Park Clinics in Barcelona.
Dr. Elvira Herrería Martínez is specialized in psychiatry, with more than 15 years of experience in the sector and now works at incorporating her practices in the field of integrative health treatment.
She speaks English and Spanish.
Education
Having completed a bachelor's degree in medicine in Madrid, she went on to train as a psychiatrist, ultimately obtaining a master in longevity and anti-ageing medicine at the University of Barcelona. She has experience working as a resident doctor, in the Ambulatory Mental Health Center, in child psychiatry and in the hospitalization of acute patients. She has substantial further experience as a practicing psychiatrist in outpatient addiction treatment, dual pathology, cases of Schizophrenia and bipolar disorder.
Therefore, she is highly experienced in a range of cases both mild as well as the treatment of patients with severe mental illnesses.
She has attended an impressive range of diplomas, with research topics ranging from depression, anxiety disorders and bipolar disorder, regularly translating these to her collaborative research work.
Here at Turó Park Clinics, Elvira works with her patients towards improved overall wellbeing in a warm, welcoming and comfortable environment.
Schedule an appointment with Dr. Elvira Herrería