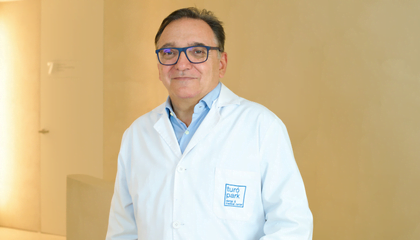 Dr. José E. Batista-Miranda
Urologist
English - Spanish - Catalan
Laser Prostate Surgery (Greenlight and Holep)
Fusion biopsy and focal therapy in prostate cancer
Flexible cystoscopy for evaluation of the urinary tract
Vesico-vaginal fistula surgery
Incontinence Surgery: TVT and Bladder Augmentation
Surgery of the female urethra: diverticula, paraurethral cysts.
Ureteroscopy and laser stone surgery
General pediatric urological surgery: scrotal and preputial surgery.
Book an Appointment now
Discover more about me
Dr. José Batista is a urologist at Turó Park Clinics. He has more than 25 years of experience as a specialist in general urology and functional clinical urology, with extensive training in different areas of the specialty. He always focuses on the overall health of the patient in a comprehensive manner. More specifically, he specializes in urological surgeries such as: surgery for incontinence, female urethra, general pediatric or laser surgery of stones.
Education
Graduated in Medicine and Surgery at the Autonomous University of Barcelona, he was resident doctor via MIR in Urology at the Fundació Puigvert, Fellow in Functional Urology at Harvard's Children's Hospital and Boston University Hospital, Research Registrar at Bristol Urological Institute, and rotations in Vienna and Los Angeles.
He later completed a PhD on incontinence in children at the Autonomous University of Barcelona.
In his field he has participated in numerous congresses, courses and seminars oriented in urology and urological surgery, both national and international. In addition to being author and co-author of several articles, publications and books, he has participated in research projects and trials approved by the IRB.
His team has been dedicated for more than 20 years to the study of urinary disorders and incontinence, being leader in the Spanish private health care in urodynamic studies.
Medical societies 
He is an active member of the most relevant societies in his field: International Continence Society, European and Spanish Association of Urology. Director of continentia Association.
Discover the opinions about our gynecologist and leave your own.
Book an appointment with Dr. José E. Batista-Miranda