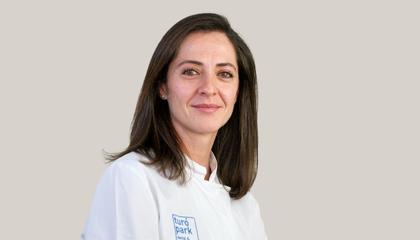 Raquel Fernández
Physiotherapist
Vestibular Rehabilitation
Musculoskeletal Treatments
Dizziness, vertigo & problems with balance, posture, vision
Make an appointment now
Discover more about me
Raquel Fernández Nova is an English-speaking physiotherapist at Turó Park Clinics. In addition to providing musculoskeletal treatments, she is specialised in advanced vestibular rehabilitation, spinal injuries, and treatment of patients with neurological conditions. 
Raquel Fernández speaks Spanish and English.
Education
Ms. Fernández Nova has a degree in physiotherapy from the Catholic University of San Antonio and further certificates from University College London, and is registered with the College of Physiotherapists of Catalonia. She has developed her practice in advanced vestibular rehabilitation which is characterised by dizziness, vertigo, and problems with balance, posture, and vision. Furthermore, she focuses on the treatment of adults with neurological conditions and holds several certificates from the BBTA. 
She had completed multiple courses in Pilates with APPI Health Group, learning some of the world's most renowned methods during her time in the UK. She has experience in acupuncture, with a certificate from the University of Hertfordshire in the UK. 
Through experience, patience and enthusiasm Ms. Fernández Nova treats her patients with a thorough and empathetic approach informed by her broad international experience. 
Schedule your appointment with Raquel Fernández