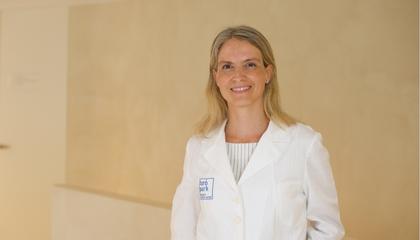 Dr. Romina Carugati
Pediatrician
Congenital and acquired heart disease
Pediatric and fetal echocardiography
Cardiopulmonary exercise test
Health Certificate for school and sports
Book a Doctor's Appointment
Discover more about me
Looking for a pediatric specializing in pediatric cardiology in Barcelona? Dr. Romina Carugati has more than 13 years of experience in the follow-up of congenital and acquired heart disease in childhood and offers comprehensive pediatric care for children of all ages.
Education
With a degree in Pediatrics and Pediatric Cardiology from the University of Buenos Aires, Dr. Romina Carugati also holds a diploma in Pediatric Sports Medicine (sports medicine).
In these fields she has authored or co-authored several publications and scientific activities, as well as medical books and has participated as a teacher and collaborator in numerous courses in Argentina.
Her competencies include:
Fetal and Pediatric Color Doppler Echocardiogram.
Pediatric Cardiopulmonary Exercise Test (CPET).
Follow-up of patients with simple and complex cardiopathies, pre and post-surgical.
Diagnosis and follow-up of patients with Cardiovascular Disease since infancy.
Dr. Romina Carugati welcomes you and your family to Turó Park Clinics, for all your medical needs throughout childhood and will give you advice on healthy lifestyle and physical activity according to your child's developmental stages and cardiological status. Also available online if you prefer to have a video consultation.
English and Spanish spoken.
Discover the opinions about our pediatrician, and leave your own.
Schedule an appointment with Dr. Romina Carugati