Adult and Adolescent Orthodontics at Turó Park Dental and Medical Center
Turó Park Dental and Medical Center understands your dilemma.  You want to have the best-looking smile possible, but don't want to have to go through years of metal braces or orthodontic devices.  The boost in self-confidence that straight teeth and a beautiful smile bring can mean a big blow to your self-esteem if you feel self-conscious about your braces.  It can seem like there really is never a good time in your life to get braces.
As healthcare providers, we also know how important correct alignment of your teeth is to your overall health.  A healthy smile with straight teeth and jaws help you to
Chew your food more completely, so that you have better nutrition
Speak more clearly
Swallow correctly
Breath more easily
Better clean your teeth and gums, reducing your risks for cavities, gum disease, and poor oral health later on
Treat other chronic disorders and conditions such as TMJ (temporal-mandibular-joint) disorders, snoring, and teeth-grinding (bruxism).
Because we are committed to providing our clients the most effective, comfortable, and cutting-edge care in orthodontics, the Turó Park Medical and Dental Center team offers you two better options to fix your smile.  Both lingual orthodontics and the Invisalign method quickly and successfully give you the smile you want in a discreet and more comfortable way.  Even better, they have less impact on your usual activities or foods you can eat and can usually be completed within just one year.
What are Lingual Orthodontics?
With lingual orthodontics, the braces or brackets attach to the back of your teeth, so that they are not visible when you smile.  Lingual orthodontics work best for adults and adolescents who already have all of their permanent teeth (with the exception of the wisdom teeth).  Patients typically complete treatment with lingual braces in 18 months.  Our English-speaking orthodontist works in close collaboration with a computer technician to design the system of brackets and pins attached to your teeth and the dental arch which gradually moves the teeth with adjustments over time.
How does the Invisalign Method work?
This new state-of-the-art technology has literally revolutionized the world of adult orthodontics.
The Invisalign system consists of transparent aligners, similar to mouthguards, but made of much thinner, clear plastic. Using computer modeling, our orthodontist creates a system of custom-fitted aligners which you will wear 22-24 hours a day.  As your teeth slowly move, you will change to the next aligner, approximately every 2 weeks.  The biggest advantage of Invisalign is that these aligners can be removed for meals, important meetings, and for tooth brushing.  Patients using the Invisalign method report less mouth and tongue injury or irritation than patients with traditional braces.  Successful and quick treatment with the Invisalign Method requires a motivated patient committed to wearing their aligners as much as possible.
Turó Park Dental and Medical Center- Home of Expert Orthodontics for All Ages
Having a better smile is something that people of all ages desire, no matter what their age.  Today, there are numerous treatment options available to patients as old as 70 years old, as long as they are in good physical health with good oral health. Sometimes patients need a smile "tune-up," even if they already had braces as a child.  Our expert English-speaking orthodontic team, conveniently located in Turó Park, Barcelona can offer you a consultation and examination to discuss what kind of orthodontics will give you the smile you want, as quickly, discretely, and painlessly as modern orthodontics allow.
Do not hesitate to contact us by email (contact@turoparkmedical.com) or by phone (+34 932 529 729), if you need more information or would like to schedule a dental appointment.  Our English-speaking medical staff will be happy to answer any of your questions.  We look forward to seeing you (and your teeth) very soon!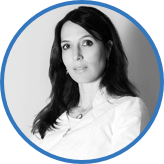 Dr. Madeleine Smit
Orthodontist
English - Spanish - Dutch - French
View profile
You need a dentist?
Contact us to get a quick appointment!